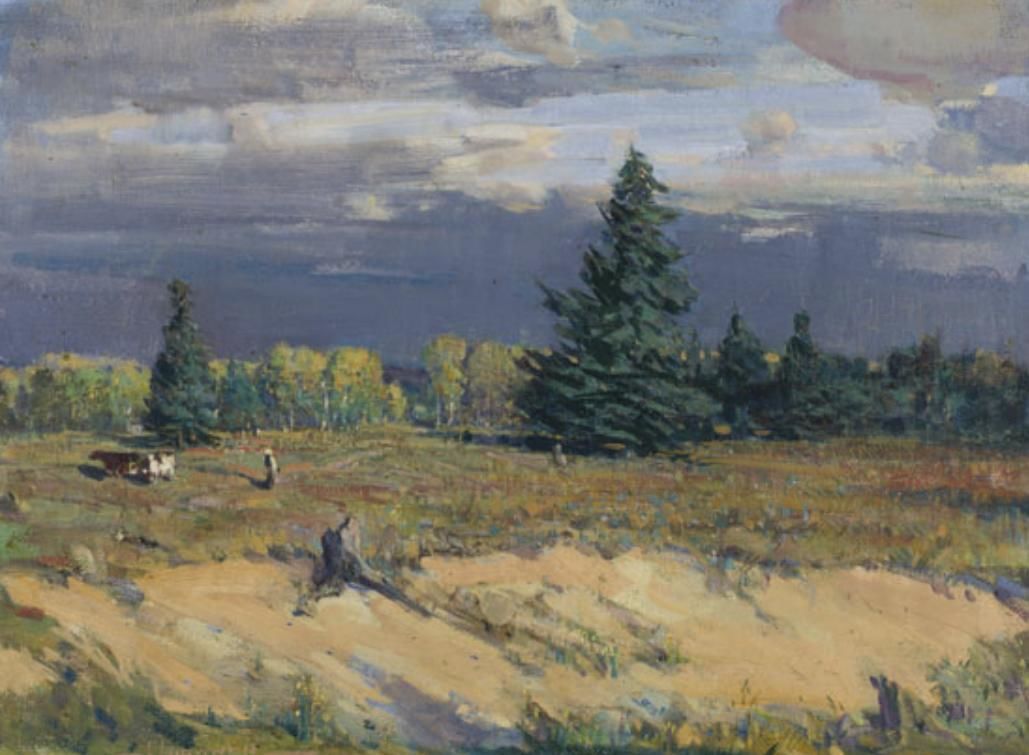 Ottawa artists buried at Beechwood
The artist has been a part of the Bytown/Ottawa community since settlement began near the locks that join the Rideau Canal to the Ottawa River. The canal's construction (from 1826 until 1832), was a military project of the British Army's Royal Engineers, under the command of Colonel John By, whose name became that of the settlement. The project produced a waterway between Kingston and Montreal, by way of the Rideau and Ottawa Rivers and a string of lakes.
Officers of the Royal Engineers were well trained in engineering drawing and some attended the British army's military academy to learn sketching and painting, enabling them to record the progress of their work by drawings, sketches and paintings. Their artistic impressions of local scenery provided the first views of the Bytown area.
In 1827 Col By appointed a local surveyor, John Burrows (1789-1848, Section 50), to be the canal project's overseer of works. He had been a civil engineer in England and a member of the militia, but had settled in Nepean Township in 1817. His signature, sometimes with that of Col By, appears on engineering drawings, and when the canal was completed he became its superintendent of operations, a position he held until his death in 1848. Possibly as a result of his military service, he developed skills in sketching and watercolour painting. His views of the canal, its locks and settlements are probably the first depictions put to paper. On his death, Burrows was buried in a Hull cemetery, but in 1882 his grave was transferred to Beechwood. Soon after the canal's completion, Bytown had become a centre of the lumber industry, processing timber from the forests of the Ottawa Valley.
In 1857, Bytown, renamed Ottawa, was chosen to be the permanent capital of the Province of Canada. This brought the industry of legislation and the construction of the Parliament buildings. They were not completely finished when, in 1867, the province joined with others to form the Dominion of Canada.
In addition to politicians, legislators and their staffs, government departments came to Ottawa, such as the Geological Survey of Canada and its explorers, map-makers and scientists. The need for railways, canals and bridges brought engineers, and the office of the Governor- General brought royalty when the Marquis of Lorne took office in 1878. His wife was Princess Louise, Queen Victoria's daughter. She shared his interest in the arts, and both were influential in the creation of the Royal Canadian Academy of Arts in 1880.
When the Crown Timber Office came to Ottawa it brought with it Alexander Jamieson Russell (1807-1887, Section 41) who used his skill in sketching to illustrate articles and a book he wrote. His sketches also appeared in the Canadian Illustrated News and other publications. Alexander's brother was also a civil servant, and Alexander's niece, Jenny Russell Simpson (1847-1936, Section 41) became a landscape and portrait artist, possibly taught by her uncle. Examples of her portraits are held by Library and Archives Canada.
Another artist, Alvira Lockwood (1843-1925, Section B), was the daughter of Bytown's first resident photographer, Joseph A. Lockwood, who established a studio in Bytown in the early 1850s to produce daguerreotypes. Alvira assisted in the studio's operation, and when her father died she carried on the business for many years, but in 1884 decided to change from photographer to artist, which became her second career. Another photographer and artist, William Stuart Taggart (1859-1925, Section 39), who was taught portrait painting by an artist from England, established an art and photographic studio in Ottawa in 1894. He painted portraits in oil of prominent citizens including lumber baron J. R. Booth and Prime Ministers John A. Macdonald and Wilfrid Laurier.
Many of the artists buried in Beechwood Cemetery participated in exhibitions of the Royal Canadian Academy of Arts, including sculptor Hamilton Plantagenet MacCarthy (1846-1939, Section 29), who exhibited his work from 1886 until 1924. Trained by his sculptor father in London, England, then at the Royal Academy, MacCarthy received commissions from Queen Victoria. In addition to his work as a sculptor, he acted in Shakespearian plays on London stages. The settlement of a Canadian estate brought the MacCarthy family to Toronto where he set up a studio, but later moved it to Ottawa. He produced portraits in marble of prominent citizens, including lumber barons J. R. Booth and E. B. Eddy, and large memorials such as his statue of Samuel Champlain and the South African War Memorial in Ottawa.
The community's interest in art drew established artists who were also teachers to Ottawa, such as Charles Eugene Moss (1860-1901, Section 35). An American who had studied in France before arriving in Ottawa in 1883, Moss taught at the Ottawa Art School and at Miss Harmon's Home and Day School. His works were shown at RCAA exhibitions from 1884 until his death at age 40, and examples of his art are in the National Gallery and the Royal Ontario Museum.
Another artist and teacher from the USA, Peleg Franklin Brownell (1857-1946, Section 24) also studied in France, and like Moss he was an Ottawa Art School teacher, as well as its headmaster for many years. He exhibited at the RCAA from 1889 to 1918, and the National Gallery has 22 of Brownell's oil paintings.
Two brothers born in Ottawa, Ernest G. (1874-1960, Section 37), and Lionel G. Fosbery (1879-1956, Section 51), both became artists, Ernest a painter and Lionel a sculptor, and teachers of art. Ernest studied under Brownell, went to Paris for two years and then to the US to teach, returning to Ottawa in 1911. He was a soldier in the First World War and was wounded in France, but returned to service as a war artist and resumed teaching after the war. He was a member of the RCAA and served for a number of years as its President. He developed skill in etching, and the National Gallery, in addition to holding a number of his paintings, also has 17 of his etchings. Lionel Fosbery left Ottawa in 1918 to become a homesteader in Manitoba, but later changed his vocation to sculptor, training in the US, Paris and London before returning to Ottawa where he had a studio and taught art. His works included marble portraits of prominent persons. Those of Prime Ministers Laurier and Borden are in the House of Commons.
Artists employed by government departments included Faith Fyles (1875-1961, Section 40). The daughter of Rev. Dr. Thomas Fyles, an Anglican clergyman and entomologist who came to Canada from England to establish churches, Faith was born in Cowansville, Quebec. After her graduation from McGill University the Fyles family moved to Hull, and she obtained, in 1910, a clerk's position in the Department of Agriculture in Ottawa. She soon became an assistant botanist and her talents as an artist, broadened by teachers Franklin Brownell, Stanhope Forbes in England and artists in Paris, were applied to the recording of the forms and colours of plants, fruits and flowers. She prepared a bulletin, "Principal Poisonous Plants of Canada" which was illustrated with her own paintings and sketches. Additional publications and the creation of a herbarium came from her work in the Department. In 1931, poor health forced her to retire but she continued painting. For two decades she entered her work in RCAA exhibitions and exhibited it elsewhere, work that expressed an appreciation of nature's beauty, specially that of plants and flowers. Other female artists contributed to Ottawa's art scene.
For many years Jean Edith Hewitt (1912-2011, Section 29) produced paintings in oil and watercolours, reflecting her impressions of area scenery that she encountered in her travels. Similar contributions were made over many years by May Stratton (1860-1940, Section 41) and her sister Lily (1869-1943, Section 41). May Stratton, in addition to serving as an official of the Ottawa Women's Art Association, was a member of the Women's Canadian Historical Society.
Government employee Paul Alfred Ernest Meister (1892-1959, Section 21), who signed his paintings Paul Alfred, was born in the Staffordshire pottery area of England and studied at the Polytechnic School of Art. In 1908 the family came to Ottawa, where Paul worked for a time as a draftsman. Early in WWI he joined the army and served in England. After the war he studied for a short time at London's Chelsea Polytechnic School. On his return to Ottawa he was employed as a map draftsman in the Department of the Interior, also as an artist, preparing illustrations for government publications. He was a teacher at the Ottawa Art School and a member of the "Ottawa Group" of artists whose work was exhibited in London, England in 1924. In 1940, Paul again joined the army and in the course of his WWII service he painted murals for army messes in Ottawa and Petawawa. After the war he worked for the Department of National Defence before retiring in 1950. Two of Paul Alfred's paintings are in the collection of the National Gallery and another is held by Library and Archives Canada.
Like Paul Alfred, Alan Brookman Beddoe (1893-1975, Section 41), served in the military in WWI. He became a prisoner of war in Germany, was taught art in the prison camp, and on returning to Ottawa, became a commercial artist. In 1931 he assisted artist James Purves in the preparation of a Book of Remembrance, a highly decorated volume of vellum pages listing the names of Canadians killed in the First World War. Purves died after only the first page was decorated, so Beddoe replaced him, completing the project in 1942, when the book was placed in the Memorial Chamber of the Peace Tower of the Parliament Building. In 1948 Beddoe started work on a WWII Book of Remembrance and followed it with books for the Korean and South African Wars, his work on these Books of Remembrance spanning 30 years. His interest in heraldic art involved him in many other projects, such as the design of emblems for ships of the Royal Canadian Navy and for organizations and municipalities. For many years artist and art dealer James Wilson (1855-1932, Section 37) played an important part in the community's art scene, as both a painter and the proprietor of an art gallery exhibiting and selling the works of Ottawa's artists. From 1883 until 1931, a span of 48 years, Wilson submitted paintings to RCAA exhibitions, all oil paintings except for one water colour.
Artist Alfred Valentine Lawton (1850- 1929, Section 24) came to Canada from England in 1873 and settled in the Eganville area where he was a school principal for a number of years before moving to Ottawa. He favoured marine subjects for his oil paintings but produced many views of the Ottawa area. Like Lawton, James Alfred Anthony Bland (1856-1928, Section 17), came from England, settling in Pembroke where he taught painting, but by 1914 had moved to Ottawa. He painted in watercolour and oil, mainly of scenery in the Ottawa area and along the St. Lawrence River.
Another English-born artist, Leonard Rossell (1880-1953), arrived in Toronto in 1908 where he specialized in book illustration. He moved to Ottawa in 1922, taught art at the Technical School and roamed the Ottawa area producing paintings in oil, watercolour and pastels, which were shown in many Ottawa exhibitions of the 1930s and 40s.
When Victor Tolgesy (1928-1980, Section 24) and his parents arrived in Ottawa in 1951 as refugees from their homeland Hungary and refugee camps in Germany, Victor had shown little interest in becoming an artist, although in the camps he had made small wooden carvings. In Ottawa, however, after finding work and attending the Ottawa School of Art, he became interested in the sculpturing not only of wood but of laminated plywood, papier-mâché and metal. His works in such materials won awards and are represented in the National Gallery and other collections. For many years Victor Tolgesy taught at the Ottawa School of Art.
The artist has played an important part in the cultural life of the Bytown/Ottawa community from its earliest days as a military settlement. The beauty of the local scenery and the presence of distinguished citizens as potential artist's subjects, and those of means as potential purchasers of art, drew numerous artists to Ottawa.
Many stayed and eventually found their final resting place in Beechwood graves, graves that in many cases represent significant contributions to the development of art in Canada.
Read these next