An politician, a champion for duelist rights, protection of equality and advocate for the National Cemetery of Canada. The Honorable Mauril Bélanger
The Honorable Mauril Bélanger
Section 53, Lot 22E22W
The Honorable Mauril Bélanger was born in Mattawa, Ontario, to Yolande (Dufour) Bélanger and Maurice Bélanger. He graduated from the University of Ottawa in 1977 where he obtained a Bachelor of Arts. Bélanger'scareer in politics began in the early 1980s when he worked as the assistant for Jean-Luc Pépin, then Minister of Transport. He then moved on to work as a stockbroker before he was the Chief of Staff to Peter Clark, who was at the time Chair of the Regional Council of Ottawa-Carleton. A member of the Liberal Party of Canada, Bélanger was first elected to Parliament on February 13, 1995, in a by-election in the riding of Ottawa—Vanier and was re-elected seven times.
The area of Vanier is a predominantly French community leading to Bélanger's work in defence of linguistic duality. Under the cabinet of Prime Minister Jean Chrétien, he began his service as Chair of the standing Committee on Official Languages. He also worked as a member of the Standing Committee on the Library of Parliament and member of the Prime Minister's Task Force on Urban Issues, Parliamentary Secretary to the Minister of Canadian Heritage, and other important responsibilities.
In the government of Paul Martin (2003−2006), he was first appointed Deputy Leader of the Government in the House of Commons and Chief Government Whip, and later appointed to Minister Responsible for Official Languages, Associate Minister of National Defence, Minister responsible for Democratic Reform, Minister for Internal Trade, and Minister of Official Languages. He also Co-Founded and Co-Chaired the Canada-Africa Parliamentary Association (2003−2016). Bélanger was re-elected in the 2006 federal election and served as the Official Opposition critic for Canadian Heritage from February, when new Liberal leader Stéphane Dion appointed him critic for Infrastructure and Communities for nine months. He then served as the Official Opposition critic for Official Languages, Canadian Heritage, and the Francophonie from October 2007 to March 2008.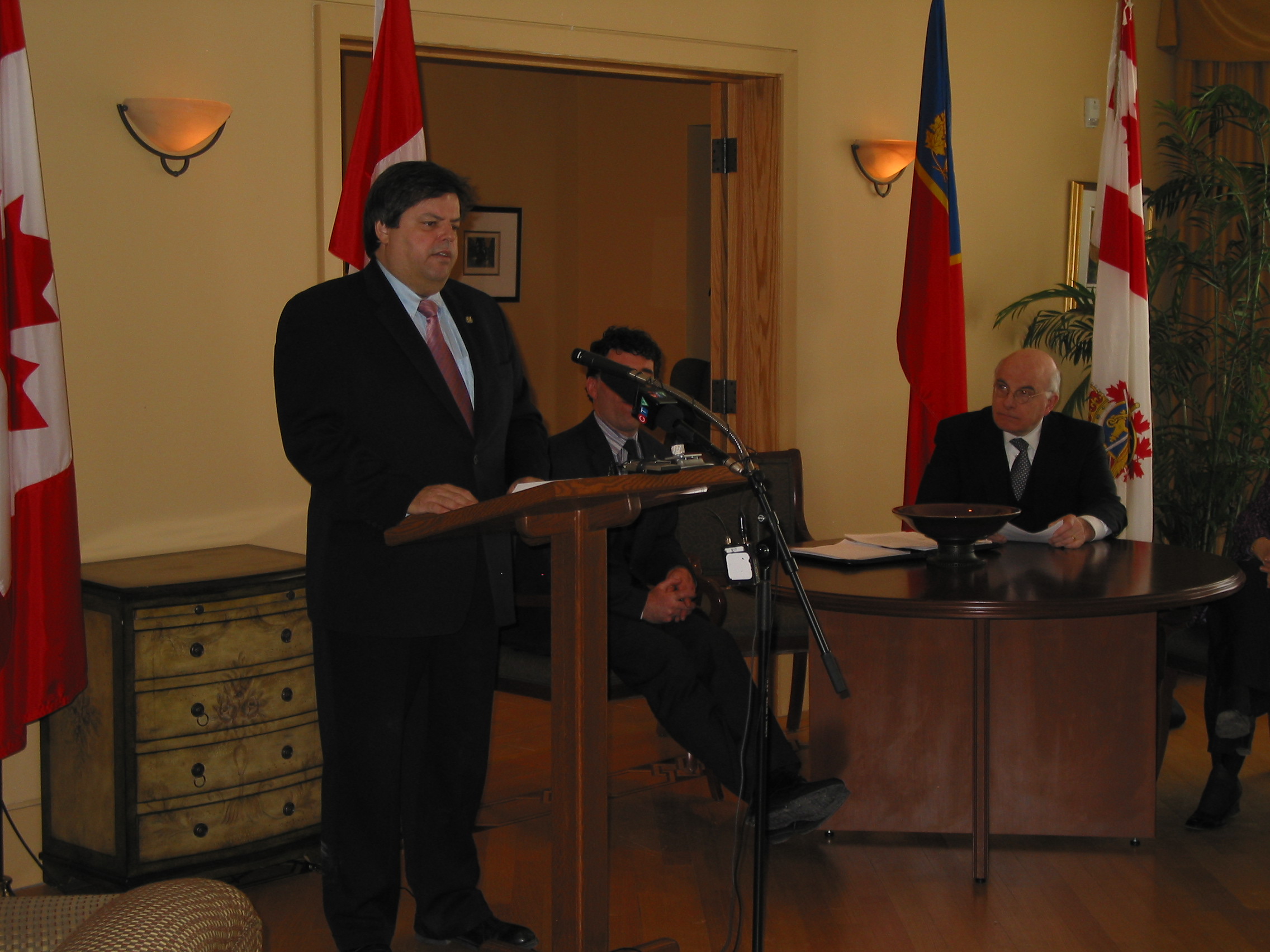 In 2008, after Bélanger won his seat once again, Liberal leader Michael Ignatieff appointed him as Official Opposition critic for Official Languages in March 2010. In 2012, Mr. Bélanger requested then interim Liberal Party leader Bob Rae to name him as 'Liberal Advocate for Co-operatives.' His first action was to request and receive approval for a Special Committee on the Status of Co-operatives in Canada.
In his role as Advocate, and Chair of the Special Committee, he worked across party lines to diligently report on the actions required by government to modernize and optimize how co-operative enterprises are supported by government. This crucial work also resulted in him becoming an effective and passionate co-operative leader nationally. Bélanger continued to build on his role as advocate for co-operatives in 2014, when he reached across party lines and formed the 'All Party Caucus on Co-operatives' with co-chair MP's Joe Preston (CPC) and Hélène LeBlanc (NDP). For his efforts, the Co-operatives and Mutuals Canada (CMC) Board presented Bélanger with its highest honour, The Achievement Award. This award recognized Bélanger's exceptional contribution to promoting, developing and uniting co‐operatives and mutuals in Canada. As Minister responsible for Official Languages, Bélanger was particularly sensitive to the issue of French in minority situations and used every chance he got to defend the cause. He equally defended English minority's language rights in Quebec. Relying on ironic imagery, Bélanger was pleased to remind Prime Minister Justin Trudeau that, having been born in Ottawa when his father was prime minister, Trudeau was "technically" a Franco-Ontarian, with all the symbolic implications that went along with it.
Throughout his career, Bélanger was closely associated with bills that introduced measures favouring the development of official languages communities that were in minority situations (notably Bill S-3, introduced by Senator Jean-Robert Gauthier before the 2006 general election was called). He was an advocate for creating measures to improve Indigenous health centres, like Wabano in Ottawa, and organized the donation and shipment of 20,000 books to Inuit children in Nunavut.
He was also involved in supporting Haitian and other immigrants, and supported a scholarship program for Haitian students at Ottawa University named after Dr. Firmin Monestime — the first black mayor in Canada and in Mattawa. Bélanger was also a longstanding champion for Project Step, an award-winning community response addressing the need for a drug and substance abuse initiative to help youth (grades seven to twelve) in the Ottawa region. During his involvement with the initiative, the Honourable Mauril Bélanger advocated at various levels of government for the need for supports for youth dealing with addictions. The United Way Ottawa has established the Mauril Bélanger Memorial Youth Addictions Research Grant to honour him and to recognize his significant contribution and advocacy.
Bélanger was considered a frontrunner for the position of Speaker of the House of Commons after his 8th electoral victory during the 2015 federal election, but withdrew after being diagnosed with amyotrophic lateral sclerosis, which caused his death in 2016. By unanimous consent, Bélanger was named Honorary Speaker of the House of Commons in December 2015. While Bélanger's ALS progressed, he became the first MP to use a voice generator in the House of Commons when he used an app on his tablet to introduce a private member's bill to amend the lyrics of "O Canada" to make them gender-neutral.
After some emotional debates for and against the bill, it passed 225 to 74 in the House of Commons on June 15, 2016, which happened to be his birthday. After the vote, Members of Parliament stood up and sang happy birthday and the new version of "O Canada" to honour Bélanger. It took two years to pass the amendments in the Senate in January 2018, after he had passed away. The lyrics were changed from "in all thy sons command" to "in all of us command" to be more inclusive, and especially recognizing women's contributions to Canada. The changes became official after receiving Royal Assent on February 7, 2018.
Bélanger was given the title of Commandeur de Ordre de la Pléiade, a francophone order that focuses on contributions made to international friendship and cooperation, in 2005. In 2007, the President of Hungary, László Sólyom, made him an Officer of the Order of Merit of the Republic of Hungary.
In April 2009, the Royal Canadian Legion recognized his contribution to the development of goodwill and comradeship. In June 2016, Bélanger received the CHF Canada Award for Outstanding Contribution to Co-operative Housing for effecting positive, large-scale change to the co-op housing sector. It was also published within the Canada Gazette of 30 July 2016 that he was awarded with the Grand Cross of the National Order of Honour and Merit, Silver Plaque of the Republic of Haiti. He co-founded and was the co-chair to the Canada-Africa Parliamentary Association.
The Aviation Museum recognized his support for the Museum by adding his name on the theatre. In the fall of 2016, under the auspices of the Jean-Luc-Pépin Research Chair, the University of Ottawa launched a lecture series on public policy issues, in honour of Bélanger. His home town honoured him by naming the only bridge in Mattawa after him. On top of that, a French public school has also been named after him in Ottawa at the Vanier quarters "l'École Mauril-Bélanger," and St. Paul University in Ottawa named a newly created community meeting place after him, "The Mauril-Bélanger Social Innovation Workshop (The Atelier)."
The Honourable Mauril Bélanger passed away on August 15, 2016, at the age of 61.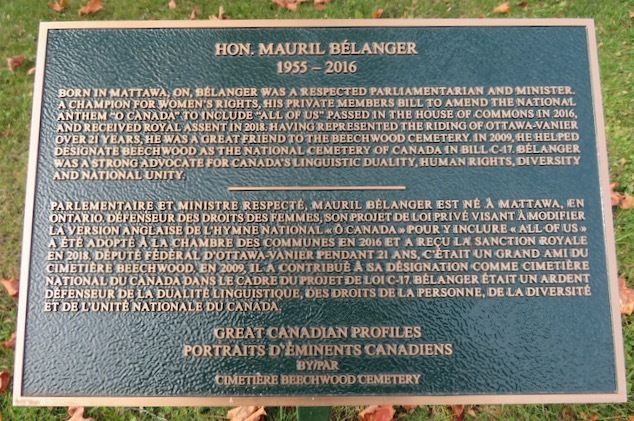 Read these next