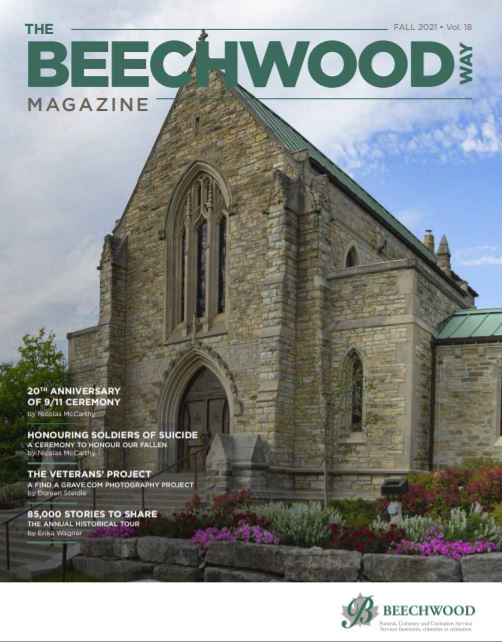 New Edition - Beechwood Way - Fall 2021
WE OFTEN REFER TO BEECHWOOD AS "A PLACE FOR THE LIVING," and this fall it did not disappoint. The Beechwood Cemetery Foundation was in full swing with events, tours, and new projects.
We honoured our soldiers, paid tribute to those we lost at the 9/11 attacks, celebrated the coming home of soldiers for WW2, commemorated the 81e of the Battle of Britain, showed respect to the Canadian Police Force and Peace Officers by hosting a wreath ceremony in the RCMP Memorial Cemetery, and welcomed back A Company of Fools' Shakespearean theatre group for three sold out shows.
We also held our Annual Memorial Service and the Ottawa Hospital Service to remember all who we lost in the last eighteen plus months.
The month culminated with the first National Truth and Reconciliation Day/ Orange Shirt Day at Beechwood. We were lucky to partner with the Project of Heart, the Assembly of 7 Generations, and the First Nations Child and Family Caring Society who together built an incredible day of education, action, and reflection. We will be dedicating several pages in the next issue on this event and Reconciliation at Beechwood.
Although fall is turning to winter, we still have plenty of activities left! We are currently planning for a full swing for 2022 and 2023, where we will all join and celebrate our community and the 150 years that Beechwood has been honoured to serve it.
Read these next