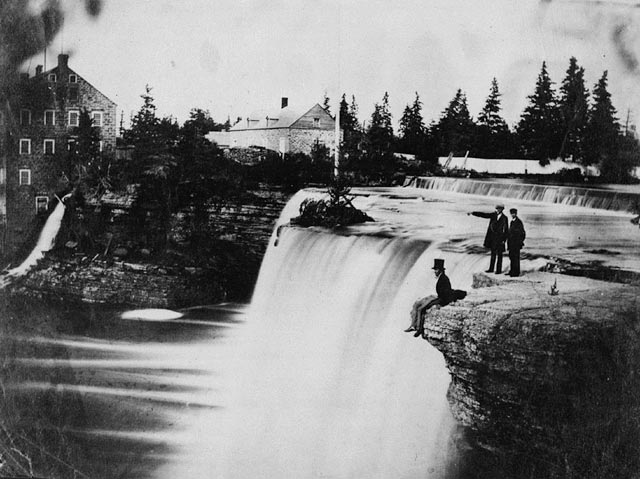 NEW EDINBURGH - A thousand, thousand stories
February 20, 1904. Everyone in New Edinburgh knew John Ferguson, a foreman at the Edwards mill. In fact, the mill closed early to allow workers to attend his funeral, the largest in living memory at MacKay Presbyterian church, and mill-owner Gordon Edwards sent a lavish floral tribute
. As the cortege moved slowly down Crichton Street on its the way to Beechwood Cemetery, the "little German church" tolled its bell in honour of John Ferguson, dead of pneumonia at age 68. After 50 years in Canada and 37 years as a worker at Rideau Falls, Ferguson was going to his final rest. He is only one of many over the years who made that final journey.
Founded in 1832 by Thomas MacKay, a Scottish stonemason, New Edinburgh in its first few decades of life was a little industrial village gathered around a complex of mills at the Rideau Falls.
Along with a few shops on Ottawa Street (today's Sussex Drive), the village featured rows of humble, gable-ended houses where the workers lived, along with a few grander houses belonging to doctors and lawyers or to the managers and owners of mills. When Ottawa was named capital of the Province of Canada in 1857, the village changed. A new population began to arrive, made up of civil servants and military men. Like the Governor General himself, these newcomers chose to settle on the quiet outskirts of Ottawa.
There, they were joined in the 1880s by an influx of German labourers, people whose grandparents had been serfs in Prussia and whose grandchildren grew up to be business owners and government workers. These were the people of New Edinburgh. They ran the mills and owned the businesses; they made the shoes, drove the streetcars, delivered the milk and built the houses. Their wives cooked the meals and watched their children anxiously as one epidemic after another swept through the neighbourhood, leaving devastation behind.
For many of these people, their journey ended in the quiet, almost rural beauty of Beechwood, where a thousand, thousand stories are buried under simple stone markers.
Read the Beechwood Way - New Edinburgh - A thousand, thousand stories.
Read these next