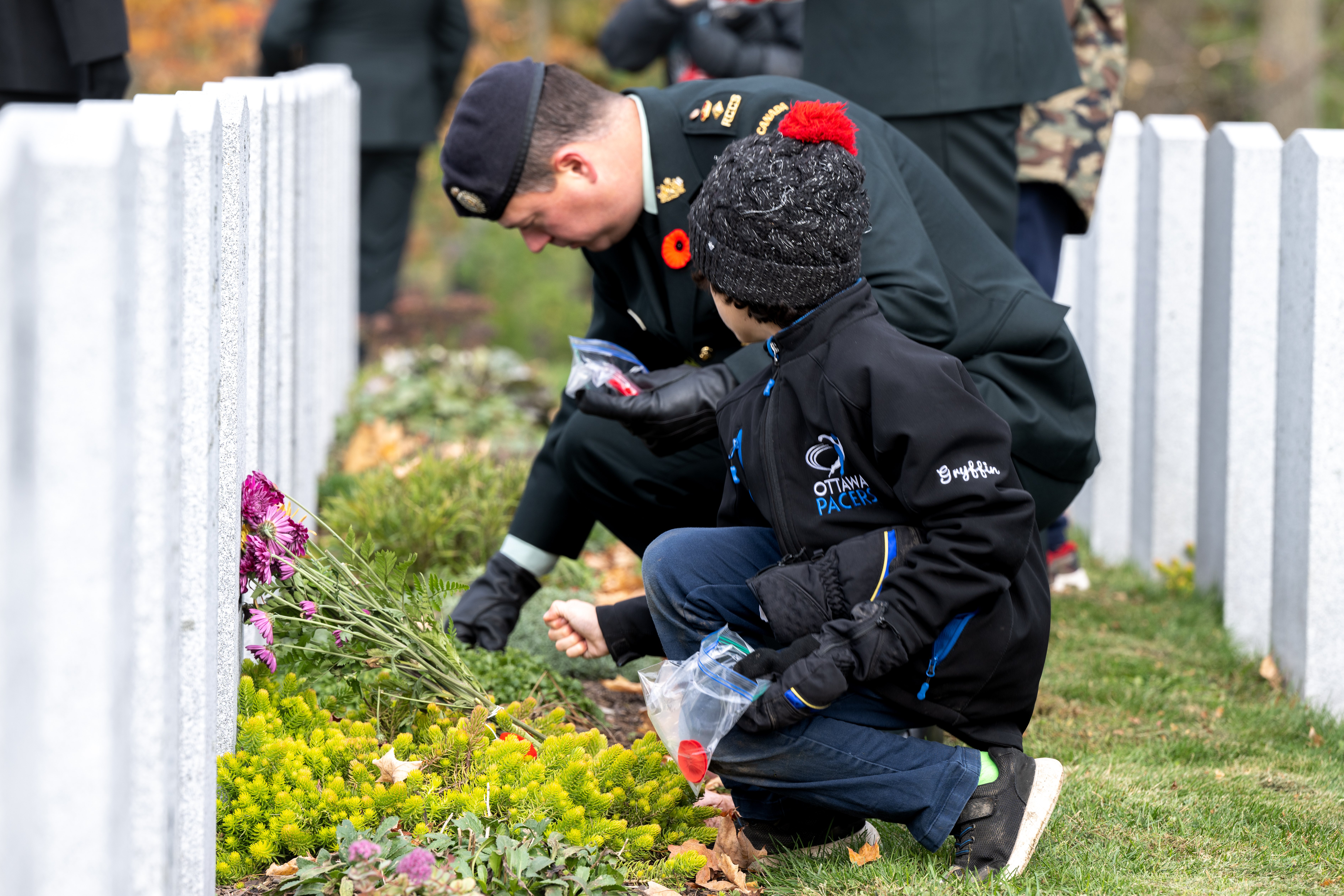 Remembrance Day at Beechwood Cemetery celebrates those who served
Join The Ceremonies on November 11th
In the current heightened political climate brought on by the war in Ukraine and recent events in Israel it's vital to remember just how fragile peace can be. Recognizing the sacrifice made by the men and women who fight for peace is at the core of annual Remembrance Day celebrations at Beechwood Cemetery, the Official National Cemetery of Canada. Given the importance of honouring the service men and women and their families for their commitment to protecting the freedoms of people around the world, Remembrance Day celebrations at Beechwood involve more than one day of activity.
"It starts with our No Stone Left Alone event November 2nd at the National Military Cemetery and it keeps going from there," said Nick McCarthy, Director of Marketing, Communications and Community Outreach with the Beechwood Cemetery Foundation.
"We're holding 10 events leading up to Remembrance Day. Everyone's working together to be primed and ready for November 11th." The National Day of Tribute – Service Day, the RCMP Annual Veterans' Week Memorial Service and Commemoration ceremony, and the Canadian Intelligence Remembrance Ceremony are just a few of the events being hosted at Beechwood Cemetery during the lead up to Remembrance Day. McCarthy said public interest in the events is high because people are looking for things to do that give them a sense of purpose.
"People understand and really want to look at remembrance as a way of doing something impactful especially in a post-COVID environment," said McCarthy. "Getting out in the community and sharing that remembrance with someone else, especially with veterans and their families, is an emotionally powerful experience. People want to share in the sacrifice that our men and women in the military give day in and day out. I think from that perspective remembrance is even more important."
The 7th Annual No Stone Left Alone Event exemplifies that spirit of sharing in the sacrifice made by veterans. The event sees local school students, members of the Canadian Armed Forces, and the community at large unite in a remembrance experience. The ceremony involves students and others placing poppies on each and every soldier's headstone in different sections of the cemetery to honour Canada's fallen military.
The event is proudly supported by the 76th Communications Regiment and is an extremely important event for parents and students alike according to McCarthy. "I think something that people when visiting a cemetery like Beechwood start to realize is just how young these people would have been when they enrolled and served. You think of youth today verses youth in World War I or World War II. It's quite remarkable the sacrifice these kids were willing to undertake. When kids have that realization that the soldiers killed were their age, it's very impactful.
They understand that if they were born in that period they would also have to go and fight." As for the actual Remembrance Day program, McCarthy said it's always a very remarkable day. "You have thousands of people who descent upon the National Military Cemetery for 10:30. They try to get here early to stand in front of their love ones and to get a parking spot. You see a very traditional ceremony with the fly-by, the readings, the bugle and the piper. In that sense it's very warm and comforting.
The families of the fallen lay the wreathes every year. It really enhances people's understanding of why it's important to remember."
For a full schedule of events happening at Beechwood including Remembrance Day activities visit Beechwood Cemetery online at https://www.beechwoodottawa.ca/en
Read these next