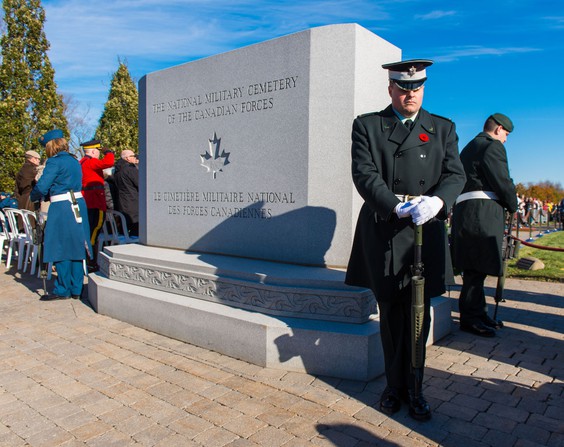 The National Military Cemetery - Main Monument
Located at the west entrance to Section 103 is the main monument was dedicated in 2001. The inscription on the front of the light barre granite monument reads, "The National Military Cemetery of The Canadian Forces".
The inscription on the back reads, "To the Men and Women of Canada's Armed Forces Who Have Served Their Country with Distinction in War and Peace".
The design of the monument is based on four Canadian First World War monuments: Courcelette, Le Quesnal, Hill 62, and Passchendale.  It most closely resembles the Passchendaele monument – simple and dignified, yet imposing. This monument is a saluting area.
Did you know: The monument weighs over 20,240 kilograms (over 20 metric tons) and is 2.59 metres wide, 84 centimetres thick, and, including the base, measures 2.26 metres in height. Placement of the monument required the largest crane in Eastern Ontario and Western Québec.
Read these next