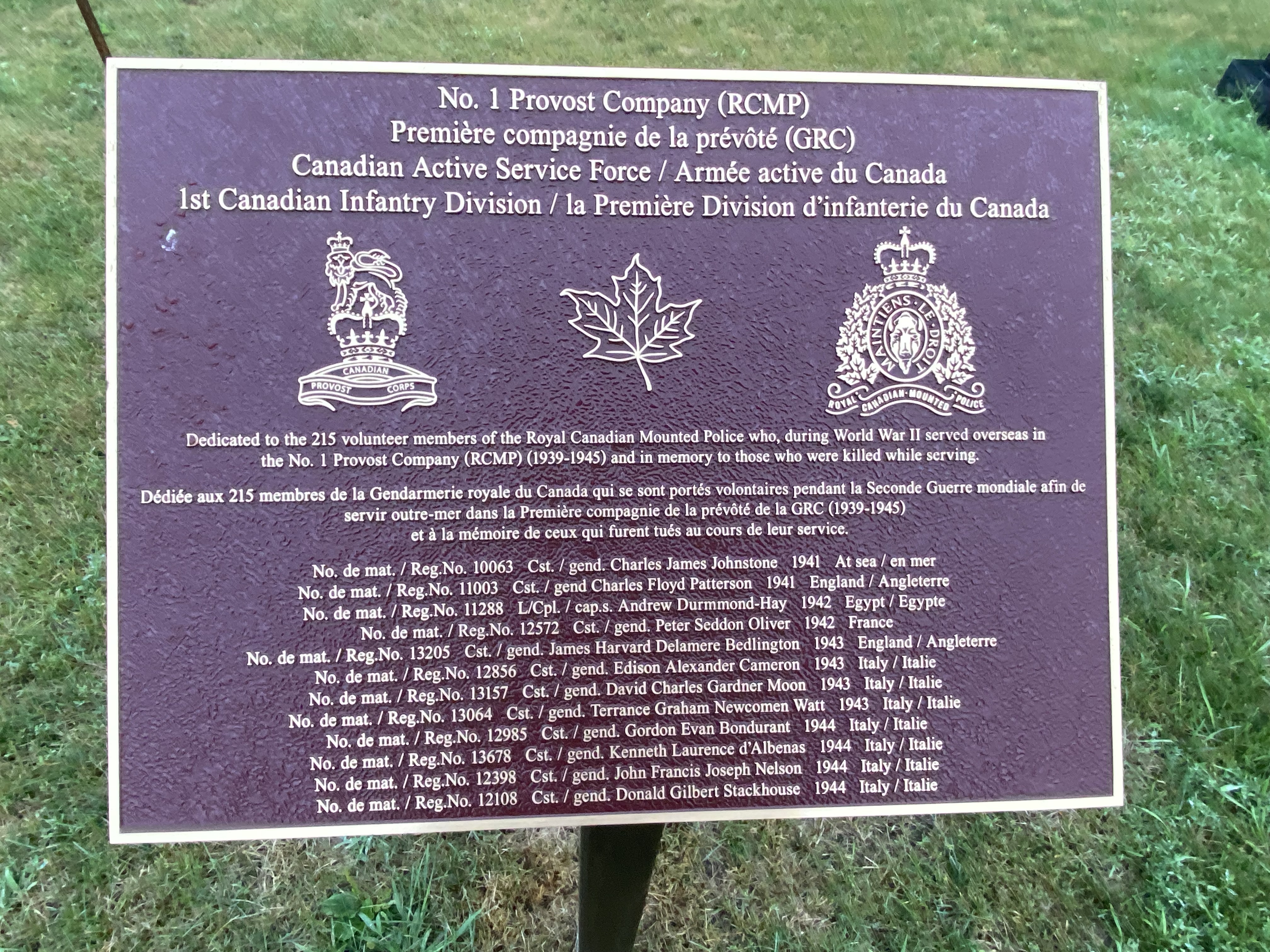 No. 1 Provost Company and the RCMP
No. 1 Provost Company and the RCMP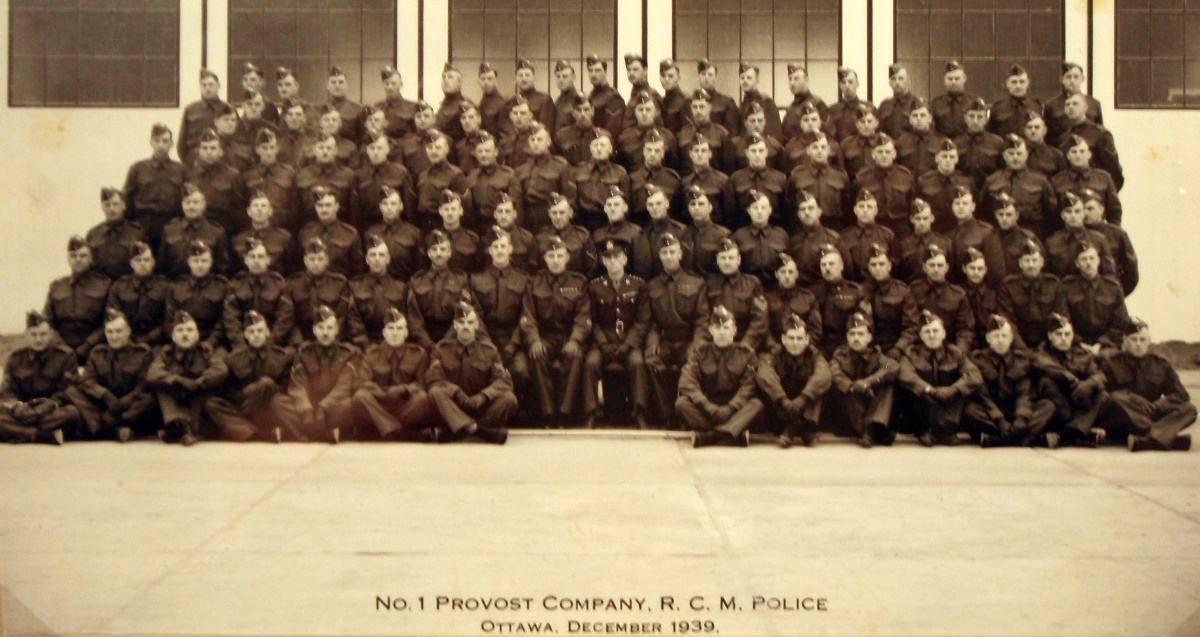 At the outbreak of World War II, the Canadian Army was without any form of military police. On September 13, 1939, the Royal Canadian Mounted Police (RCMP) requested and received permission to form a Provost Company using volunteers from its ranks. This was designated 1 Provost Company (RCMP), of the 1st Canadian Infantry Division, Canadian Active Service Force. Initially, it was 120 men; many of them were in the UK by the end of 1939.
In mid June 1940, the Canadian Provost Corps was officially born out of 1 Provost Company. For most of 1940, 1 Provost Company was stationed in England, but was involved in the battles during the fall of France (Brest, Laval, Sable and Châteaubriant).
The Canadian Provost Corps Training Centre operated from November 1942 to May 1946, training a total of 1,897 all ranks.
During World War II, most of the Canadian Army in England was stationed at Aldershot. Canadian MPs wore red-topped caps and were armed with .38 revolvers carried in a holster on the left hip together with white pattern 1937 web belt, brace and brace attachment in the same manner as the British Corps of Military Police (CMP). The Corps saw action for the first time on 18 August 1942 in the Dieppe Raid. Of the 41 members who took part, 22 returned to England, one was killed, eighteen were taken prisoner (seven of them being wounded). During 1943, 1 Provost Company became involved in operations in Sicily (Pachino, Valguarnera, Assoro, Agira, Adrano and Regalbuto) and after the crossing into Italy on 3 September 1943, the company continued its support of the I Canadian Corps as part of the Eighth Army as Allied Forces crept northwards from the toe of Italy.
Places where 1 Provost Company saw action included: Campobasso, Torella, Motta Montecorvino, San Leonardo, The Gully, and Ortona in 1943; San Nicola, San Tommaso, Cassino II, the Gustav Line, the Liri Valley, the Hitler Line, and Lamone Crossing in 1944; and Misano Ridge, Rimini Line, San Martino, San Lorenzo, and Fosso Vecchio in 1945. In the Cassino area of Italy, the Canadian Provost assisted the British CMP on "Highway 6", where 11,000 vehicles were handled every day. The Canadians were part of twenty-four provost and traffic control companies and two Special Investigation Branch sections that were attached to the Eighth Army.
Shortly after the Normandy landings in June 1944, the 2nd Canadian Line of Communications (LoC) Provost HQ and six sections were deployed in Northern France on traffic control duties. 1 Provost Company also saw action at Apeldoorn in the Netherlands. On 18 October 1945, 1 Provost Company was de-activated when it was repatriated to Canada. By September 1945, the C Pro C numbered 6,120 men.
In the RCMP Cemetery, a plaque to honour the No1 Provo Corps was unveiled and it reads
NO. 1 PROVOST COMPANY (RCMP) PREMIÈRE COMPAGNIE DE LA PRÉVÔTÉ (GRC)
CANADIAN ACTIVE SERVICE FORCE / ARMÉE ACTIVE DU CANADA
1ST CANADIAN INFANTRY DIVISION / LA PREMIÈRE DIVISION D'INFANTERIE DU CANADA
DEDICATED TO THE 215 VOLUNTEER MEMBERS OF THE ROYAL CANADIAN MOUNTED POLICE WHO, DURING WORLD WAR II SERVED OVERSEAS IN THE NO. 1 PROVOST COMPANY (RCMP) (1939-1945) AND IN MEMORY TO THOSE WHO WERE KILLED WHILE SERVING.
DÉDIÉE AUX 215 MEMBRES DE LA GENDARMERIE ROYALE DU CANADA QUI SE SONT PORTÉS VOLONTAIRES PENDANT LA SECONDE GUERRE MONDIALE AFIN DE SERVIR OUTRE-MER DANS LA PREMIÈRE COMPAGNIE DE LA PRÉVÔTÉ DE LA GRC (1939-1945) ET À LA MÉMOIRE DE CEUX QUI FURENT TUÉS AU COURS DE LEUR SERVICE.
No. de mat. / Reg.No. 10063 Cst. / gend. Charles James Johnstone 1941 At sea / enmer
No. de mat. / Reg.No. 11003 Cst. / gend. Charles Floyd Patterson 1941 England / Angleterre
No. de mat. / Reg.No. 11288 L/Cpl. / cap.s. Andrew Durmmond-Hay 1942 Egypt / Egypte
No. de mat. / Reg.No. 12572 Cst. / gend. Peter Seddon Oliver 1942 France
No. de mat. / Reg.No. 13205 Cst. / gend. James Harvard Delamere Bedlington 1943 England / Angleterre
No. de mat. / Reg.No. 12856 Cst. / gend. Edison Alexander Cameron 1943 Italy / Italie
No. de mat. / Reg.No. 13157 Cst. / gend. David Charles Gardner Moon 1943 Italy / Italie
No. de mat. / Reg.No. 13064 Cst. / gend. Terrance Graham Newcomen Watt 1943 Italy / Italie
No. de mat. / Reg.No. 12985 Cst. / gend. Gordon Evan Bondurant 1944 Italy / Italie
No. de mat. / Reg.No. 13678 Cst. / gend. Kenneth Laurence d'Albenas 1944 Italy / Italie No. de mat. / Reg.
No. 12398 Cst. / gend. John Francis Joseph Nelson 1944 Italy / Italie
No. de mat. / Reg.No. 12108 Cst. / gend. Donald Gilbert Stackhouse 1944 Italy / Italie
Read these next