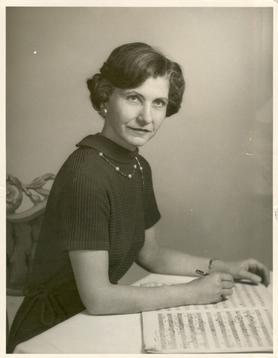 The most admired woman of the decade - Violet Archer
VIOLET ARCHER Section 19, SG 280 (Ed & Mus)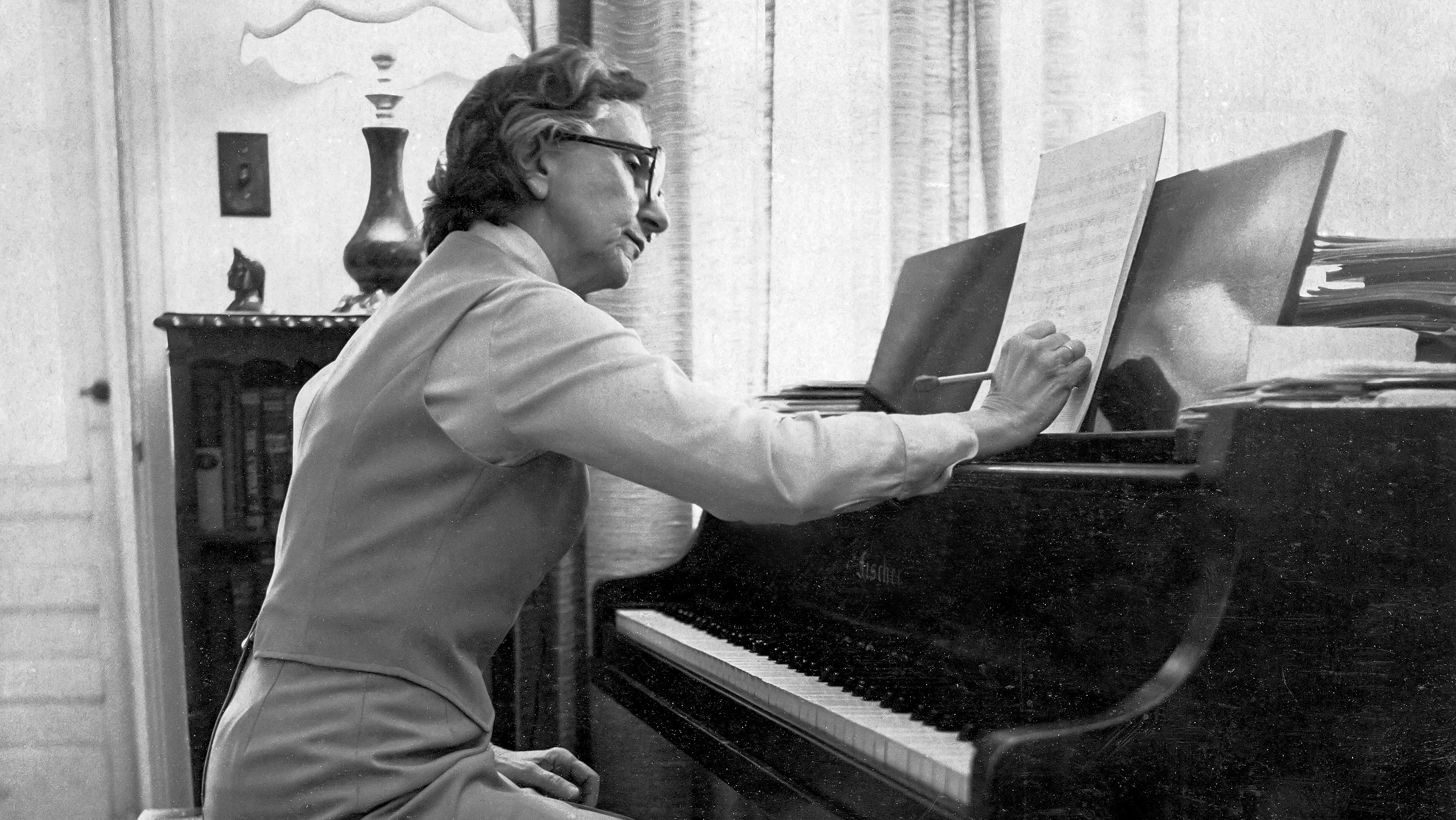 Violet Archer was born Violetta Balestreri on April 24, 1913 in Montreal to a family of Italian immigrants. In response to her early interest in music, the family bought Violet a piano at age nine, and she soon received formal training.
At age sixteen she began to compose music and her first composition, like many others in the course of her career, was an attempt to put poetical work into musical form.
Archer obtained a teacher's certificate for the piano from McGill University in 1934, a degree of Bachelor of Music in 1936, followed in 1938 by a diploma of the Royal Canadian College of Organists. Her extensive academic achievements included a Master of Music degree from Yale University in 1949.
In 1942 she studied in New York under Hungarian composer Bela Bartók, who suggested the use of folk melodies and harmonies in her compositions, and at Yale she was a student of Paul Hindemith.
Béla Viktor János Bartók was a Hungarian composer, pianist, and ethnomusicologist. He is considered one of the most important composers of the 20th century; he and Franz Liszt are regarded as Hungary's greatest composers.

Paul Hindemith was a prolific German composer, music theorist, teacher, violist and conductor. He founded the Amar Quartet in 1921, touring extensively in Europe.
Her studies were supported by scholarships and fellowships from universities and the Canada Council, and her detailed knowledge of many instruments, including the piano, organ, clarinet, strings and bass, provided a firm foundation for her compositions. Archer's early teaching positions included McGill and American universities.
Archer built a career as a musician and composer in addition to her teaching. She played percussion with the Montreal Women's Symphony Orchestra from 1940 to 1947, a time period when major municipal orchestras were not admitting women to their ranks.
In addition to percussion, Archer played clarinet and strings, and worked in Montréal as an accompanist and organist. As a composer, Archer's prolific work of more than 330 compositions included traditional and more contemporary works for instrument and voice.
In 1962 she became a professor at the University of Alberta, where until 1990 she taught music and musical composition. She also served as the resident composer at the Banff Centre for the Arts.
A list of her compositions, exceeding 120 works, includes a symphony and other orchestral works and various solo, trio and quartet pieces for the piano, organ, strings and other instruments. Examples of her wide-ranging work include a 1973 comic opera, Sganarelle, the film score for a 1976 documentary, Someone Cares, and experimentations with electronic music.
Her music has been described as "Archer is noted for her 90 compositions written for novice performers, which she wrote to encourage musicians and audiences of all levels to enjoy and understand key elements of modern music like harmony, melody, and rhythm. Many of her compositions were based on Biblical texts, poetry and folk songs, and many have been recorded. Archer's accomplishments were recognized by numerous awards, including honorary degrees from a number of universities, and her appointment, in 1983, to the Order of Canada.
In 1993 she was named by an American organization as "International Woman of the Year", and in that year another American institution described her as "The most admired woman of the decade".
The Violet Archer fonds at the U of A was accepted into the Canada Memory of the World Register, part of a UNESCO program that showcases the most meaningful documents in humanity's heritage and history.
UNESCO's Memory of the World Programme showcases the most significant documents of our heritage. Safeguarding the memory of the world now and into the future provides universal access to our artistic, cultural, economic, geographic, linguistic, political, scientific, spiritual and identity-based heritage.

The Canadian Commission for UNESCO maintains the Canada Memory of the World Register, while UNESCO is responsible for the International Memory of the World Register. Created by the Canadian Commission for UNESCO in 2017, the register promotes the diversity of Canada's significant documentary heritage. 
Archer died in Ottawa on February 21, 2000.
Read these next