The Indomitable Electrician - FREDERIC NEWTON GISBORNE
FREDERIC NEWTON GISBORNE
Section 41, Lot 107 E 
Born in England in 1824. He left England in 1842 for a trip around the world, finally settling in Canada in 1845.
Gisborne came to Canada in 1845, where he became chief operator of the Montreal Telegraph Company. At the British North America Electric Telegraph Association, formed in 1847, he was involved in connecting the Maritime provinces with Canada East and Canada West.
In 1852, he laid the first ocean telegraphic cable in North America, connecting Prince Edward Island with New Brunswick. He was the originator and primary promoter of a submarine cable between Newfoundland and Ireland.
As early as 1840 Samuel F. B. Morse proclaimed his faith in the idea of a submarine line across the Atlantic Ocean. By 1850 a cable was run between England and France. That year, Bishop John T. Mullock, head of the Catholic Church in Newfoundland, proposed a telegraph line through the forest from St. John's to Cape Ray and cables across the Gulf of St. Lawrence from Cape Ray to Nova Scotia across the Cabot Strait.

Around the same time, a similar plan occurred to Frederic Newton Gisborne, a telegraph engineer in Nova Scotia. In the spring of 1851 he procured a grant from the Newfoundland legislature and, having formed a company, began building the landline. In 1853 his company collapsed, he was arrested for debt and lost everything.
In 1854, businessman and financier Cyrus West Field invited Gisborne to his house to discuss the project. From his visitor, Field considered the idea that the cable to Newfoundland might be extended across the Atlantic Ocean.
Field was ignorant of submarine cables and the deep sea. He consulted Morse and Lieutenant Matthew Maury, an authority on oceanography. The charts Maury constructed from soundings in the logs of multiple ships indicated that there was a feasible route across the Atlantic. It seemed so ideal for cable laying that Maury named it Telegraph Plateau. Maury's charts also indicated that a route directly to the US was too rugged to be tenable and considerably longer. Field adopted Gisborne's scheme as a preliminary step to the bigger undertaking and promoted the New York, Newfoundland and London Telegraph Company to establish a telegraph line between America and Europe.
The first step was to finish the line between St. John's and Nova Scotia, which was undertaken by Gisborne and Field's brother, Matthew. In 1855 an attempt was made to lay a cable across the Cabot Strait in the Gulf of Saint Lawrence. It was laid out from a barque in tow of a steamer. When half the cable was laid, a gale rose, and the line was cut to keep the barque from sinking. In 1856 a steamboat was fitted out for the purpose, and the link from Cape Ray, Newfoundland to Aspy Bay, Nova Scotia was successfully laid. The project's final cost exceeded $1 million, and the transatlantic segment would cost much more.
In 1855, Field crossed the Atlantic, the first of 56 crossings in the course of the project, to consult with John Watkins Brett, the greatest authority on submarine cables at the time. Brett's Submarine Telegraph Company laid the first ocean cable in 1850 across the English Channel, and his English and Irish Magnetic Telegraph Company had laid a cable to Ireland in 1853, the deepest cable to that date. Further reasons for the trip were that all the commercial manufacturers of submarine cable were in Britain,[8] and Field had failed to raise significant funds for the project in New York.
Field pushed the project ahead with tremendous energy and speed. Even before forming a company to carry it out, he ordered 2,500 nautical miles (4,600 km; 2,900 mi) of cable from the Gutta Percha Company.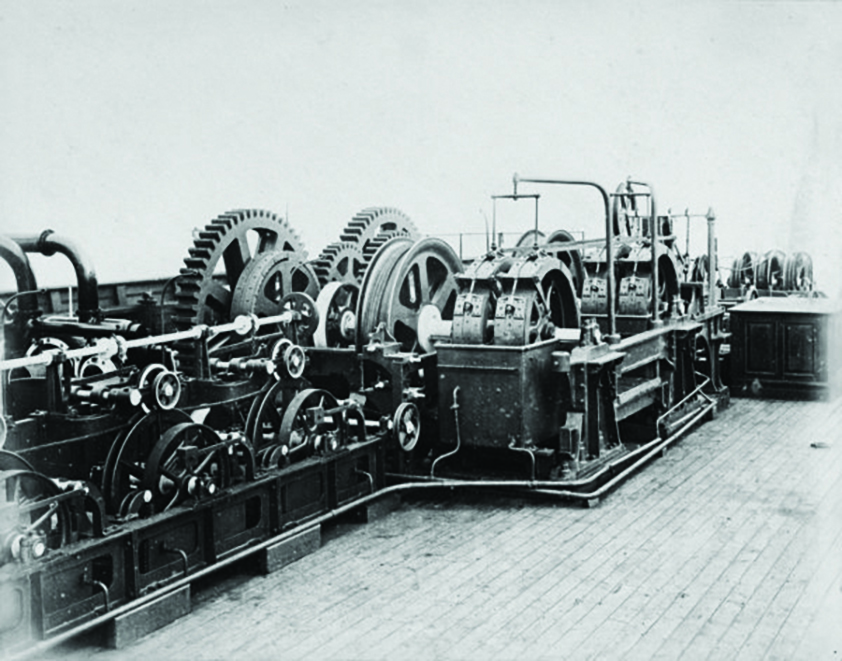 The Atlantic Telegraph Company was formed in October 1856, with Brett as president and Field as vice president. Charles Tilston Bright, who already worked for Brett, was made chief engineer, and Wildman Whitehouse, a medical doctor self-educated in electrical engineering, was appointed chief electrician.
Field provided a quarter of the capital himself. After the remaining shares were sold, largely to existing investors in Brett's company, an unpaid board of directors was formed, which included William Thomson (the future Lord Kelvin), a respected scientist. Thomson also acted as a scientific advisor.Morse, a shareholder in the Nova Scotia project and acting as the electrical advisor, was also on the board.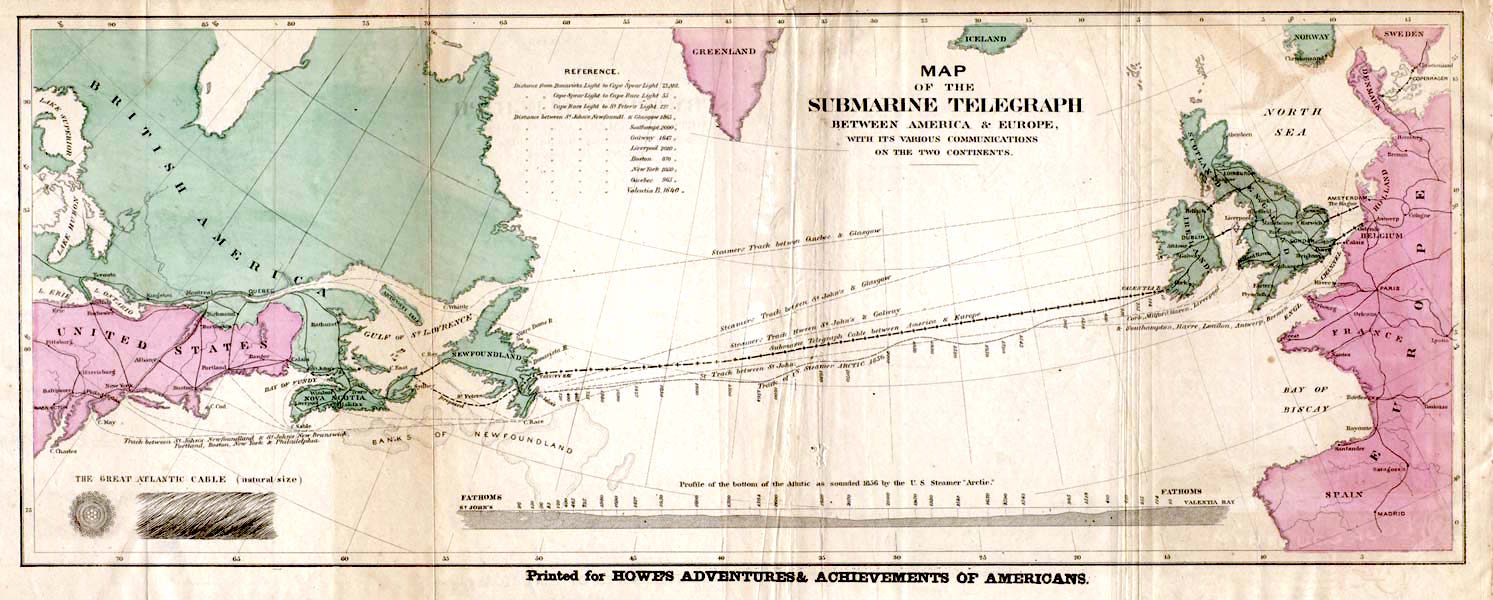 First Contact
Test messages were sent from Newfoundland beginning August 10, 1858.
The first was successfully read at Valentia on August 12 and in Newfoundland on August 13. Further test and configuration messages followed until August 16, when the first official message was sent via the cable:
Directors of Atlantic Telegraph Company, Great Britain, to Directors in America:—Europe and America are united by telegraph. Glory to God in the highest; on earth peace, good will towards men.
Next was the text of a congratulatory telegram from Queen Victoria to President James Buchanan at his summer residence in the Bedford Springs Hotel in Pennsylvania, expressing hope that the cable would prove "an additional link between the nations whose friendship is founded on their common interest and reciprocal esteem". The President responded: "It is a triumph more glorious, because far more useful to mankind, than was ever won by conqueror on the field of battle. May the Atlantic telegraph, under the blessing of Heaven, prove to be a bond of perpetual peace and friendship between the kindred nations, and an instrument destined by Divine Providence to diffuse religion, civilization, liberty, and law throughout the world."
The messages were hard to decipher; Queen Victoria's message of 98 words took 16 hours to send. Nonetheless, they engendered an outburst of enthusiasm. The next morning a grand salute of 100 guns resounded in New York City, streets were hung with flags, bells of the churches were rung, and at night the city was illuminated.
In 1879, Gisborne was appointed superintendent of the Canadian government telegraph service, which position he held until his death. Among his numerous inventions were an anti induction ocean cable, electric and pneumatic ship signals, an anticorrosive composition for the bottoms of iron ships, and an electric recording target.
Gisborne remained in England until May 1857, when he returned in triumph to St John's, receiving a public dinner and a silver statuette in appreciation of his work. He then turned to another interest, the discovery and development of mineral deposits in Newfoundland and the Maritime provinces. He explored the Newfoundland coast, from Cape Ray to the Strait of Belle Isle, raised capital in England, and developed at least two sites for the St John's United Copper and Lead Mining Company.
In 1861 a severe gunshot wound, suffered while he was exploring on the island, put an end to his adventures and sent him back to England. There he undertook research into telegraph, signal, and navigation equipment and patented a wide variety of inventions. Living near London Bridge, he described himself as an "Engineer and Electrician."
In 1862 he was appointed commissioner for Newfoundland at the International Exhibition in London, and he served as commissioner of mines for the Newfoundland government at the Paris exhibition five years later. In 1865 he also became London agent for mines and minerals of the Nova Scotia government. Gisborne exhibited regularly at the Royal Society and won several medals for his inventions, but he lost many of his British patents in 1867 in a corporate swindle.
Two years later, while on a visit to Nova Scotia to gather information as the province's agent for mines and minerals, Gisborne became enthusiastic about the potential of the Cape Breton coal deposits. He found a group of English investors willing to put money into these seemingly lucrative mines, and by the end of the year was chief engineer of a company operating on the island. He superintended the development of four collieries, the building of several associated railway branch lines, and the upgrading of port facilities at Sydney and Louisbourg.
However, the depression of the 1870s and the subsequent collapse of coal prices wrecked the enterprise after more than $3,000,000 had been invested. Gisborne tried to bail out his own finances by diversifying into gold mining in Nova Scotia, but this project also failed.
By 1879, at the age of 55, Gisborne was once again wiped out financially. At this point the federal government seized the opportunity to acquire Gisborne's expertise and offered him the new post of superintendent of the dominion telegraph and signal service. This appointment, which Gisborne accepted effective 1 May 1879, ushered in a relatively stable time in his career. His first task was to reorganize the expensive and problem-riddled telegraph system in British Columbia. Gisborne immediately travelled there, and by the end of the year the broken lines had been mended and the system was beginning to produce some regular revenue.
In 1882, Gisborne was made a founding fellow of the Royal Society of Canada [see Sir John William Dawson]. In the summer of 1883 Gisborne went to inspect the new network of telegraph lines from Fort Qu'Appelle (Sask.) to Edmonton and Calgary, which replaced an old "pioneer" line built along an abandoned Canadian Pacific Railway route. Setting out with his son Hartley, who was on his way to his new post as district superintendent of government telegraphs at Battleford (Sask.), Gisborne travelled more than 1,000 miles by buckboard to Calgary, viewing the first scattered farms, Indian encampments, and tiny hamlets. He then returned to Ottawa by rail, having spent about three months on the trip.
In 1885 he had a taste of adventure once again, when he accompanied the expeditionary force sent to the Metis Resistance (North-West rebellion). Gisborne personally supervised the construction of telegraph lines between Dunmore and Fort Macleod (Alta) and Moose Jaw and Wood Mountain (Sask.). He also began the rebuilding of the deteriorating Edmonton–Calgary line.
Gisborne's other principal accomplishment while superintendent of the telegraph service was the planning and building of a cable line connecting stations along the Gulf of St Lawrence, to be used for transmitting information on fisheries, weather, and marine disasters as well as the usual messages. He continued to lecture and write newspaper articles on a variety of subjects, and at the time of his death in 1892 he was planning a transpacific cable. A member of the Church of England, he had the reputation of being "broad and liberal in his views."
He died quietly and rather unexpectedly while resting at home after an inspection tour of the gulf cable system, succumbing at last to the physical rigours of his life. Despite his key role in engineering and promoting the transatlantic and other cables and in discovering and developing the Cape Breton coalfields, Frederic Newton Gisborne died in obscurity. His partners had repeatedly tried to steal his innovations, enterprises, and reputation, and in several cases succeeded. However, "the indomitable Electrician," as one of his English friends called him, is a landmark figure in the history of science and technology in Canada, as well as a picturesque exemplar of the Victorian scientist-adventurer.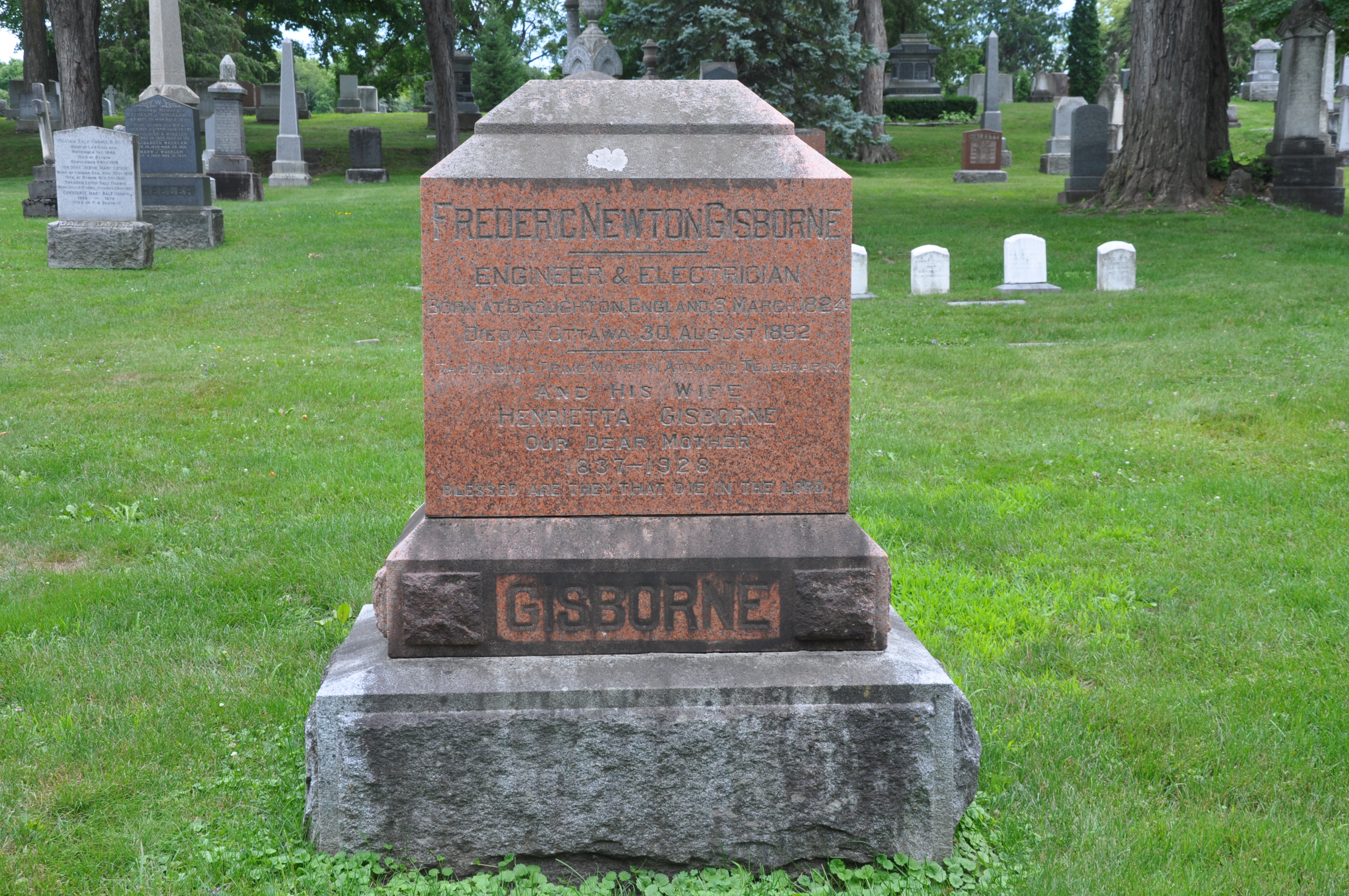 Read these next