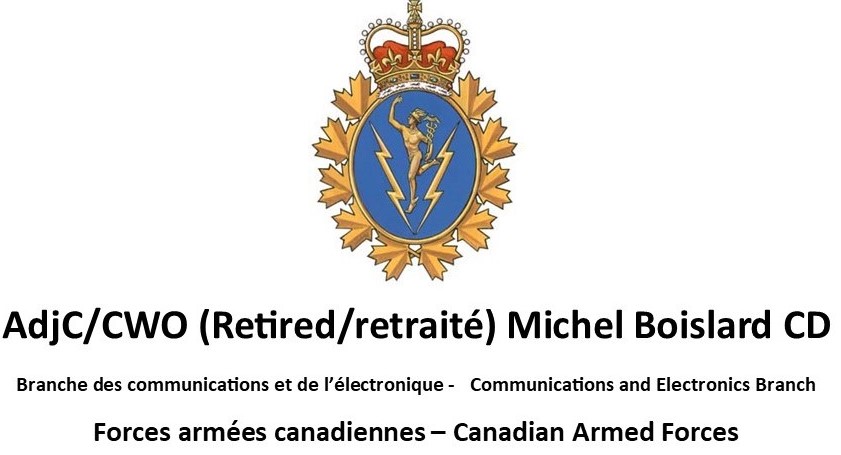 Est décédé à la Maison Mathieu-Froment-Savoie de Gatineau le lundi 7 février 2022 à l'âge de 60 ans.  Il était le fils de feu Cécile Vallières et de feu Napoléon Boislard. Il laisse dans le deuil ses fils Daniel et Christian (Hanna Bonneville), ainsi que son frère Claude (Jocelyne Sirois) et ses sœurs: Lucille (André Chenard), Huguette (Jean-Marie Roy) et France (Gilles Gauvin).  Il était l'oncle bien-aimé de nombreux neveux et nièces. Il laisse également dans le deuil ses anciens collègues de travail ainsi que plusieurs amis.
L'inhumation de l'urne aura lieu au Cimetière national des Forces canadiennes au printemps 2022.
En sa mémoire des dons à La Fondation Mathieu-Froment-Savoie seraient appréciés.
Passed away at the Maison Mathieu Froment Savoie of Gatineau on Monday February 7, 2022 at the age of 60. Son of the late Cécile Vallières and the late Napoléon Boislard. Loving father of Daniel and Christian (Hanna Bonneville), as well as his brother  Claude (Jocelyne Sirois) and sisters: Lucille (André Chenard), Huguette (Jean-Marie Roy) and  France (Gilles Gauvin). Will be dearly remembered by several nieces and nephews as well as his former colleagues and friends
Urn burial will be held at the National Military Cemetery of the Canadian forces in Spring 2022. 
In memoriam donations to La Fondation Mathieu-Froment-Savoie would be appreciated.
Digital Guestbook
Jean leroux
Vraiment désolé d'apprendre le décès de Michel Mes sympathies à toute la famille
Denis Leroux
Je vous offre toutes mes sympathies et vous souhaite beaucoup de résilience en cette période difficile.
LOUYSE VALLIERES
Malgré la grande tristesse de son décès, je crois que Tante Cécile (votre mère) lui a fait le cadeau de revoir sa famille (et nous ses cousins, cousines) en décembre dernier lors de ses propres funérailles. Ce que pour ma part, j'ai grandement apprécié. J'offre mes sincères sympathies à Daniel et Christian ses fils, ainsi qu'à chacun, chacune d'entre vous. Sois en Paix cher Michel.
Eric Hansen
Michel was an esteemed colleague and a friend. He will be missed. I offer to all of your my deepest sympathies. Michel était un collègue estimé et un ami. Il va nous manquer. Je vous offre à tous mes plus sincères sympathies.
Patrice Sabourin
C'est avec grande tristesse que j'ai appris le décès de Michel. Je voudrais premièrement exprimer mes plus sincères sympathies à Daniel et Christian et à la famille pendant cette période particulièrement difficile. J'ai connu Michel au cours des dernières années surtout lorsqu'il a travaillé pour moi en tant qu'adjuc de la branche et ensuite officer puis comme employé civil. Il a servi son pays avec fierté et vous pouvez tous en être fier.
Michel était une personne extrêmement humble et généreuse qui s'intéressait sincèrement au bien être des autres avant le sien. Il vous aimait tous énormément et il parlait souvent de vous et à quel point il était fier de vous. Il va tous nous manquer.
Muhammad Khalil
With very heavy heart, difficult to come the reality that Michel is longer among us. He was such a lovely and nice human being. I had some wonderful time with him in the kitchen eating together and enjoying his compony. He was easy to approach, very understanding and full of empathy. So sad and heart broken, he will be dearly missed. May God rest his soul in peace and help family and loved ones pass through this difficult time.
Tina Giroux
Cher Daniel et Christian, à vous et aux proches de votre cher papa, j'offre mes plus sincères condoléances. J'ai eu l'opportunité de travailler avec Michel en 2019 et 2020 et il était un gestionnaire exceptionnel. Au fil du temps, que les doux souvenirs de cet être cher puissent vous apporter réconfort, force et espérance. Bon courage.
David MacPhail
It was with great sadness that I heard about the passing of Michel. I had the absolute pleasure of working beside Michel for many years. A humble man who was always willing to help others and took great pride in his occupation and serving Canada. Gone far too soon.
Thomas Long
I had the privilege of working with Michel during my career and remember those times with pleasure. My sincere condolences to the family.
Chris Rickert
Worked along side Michel many years ago. So sorry for your loss. May he rest in peace.
Sign digital guestbook