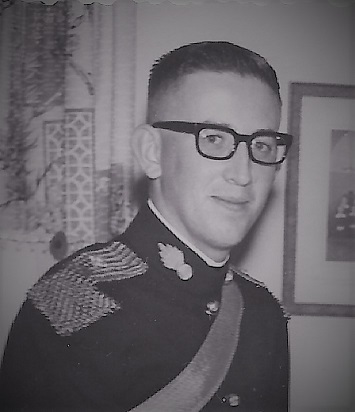 At the age of 77, Jack passed away at home, in his favourite easy chair, with his family close by. Loving husband to Linda (nee Hotson) for over 56 years and devoted father to Todd (Johanne Fernie), Jennifer, Wendy (Stephen Lewis), and Mark (all in Ottawa). Grandfather to Ewan, Matthew and Warren. Predeceased by his parents Robert and Irene (nee Whitman), and older sister Ellen (Earle Saunders), and survived by his younger sister Ann (Yves Cliche).

Jack was born in Middleton, Nova Scotia. His schooling began in a one room school house in Nictaux Falls, Nova Scotia and he later attended Middleton Regional High School where he was a member of the air cadets. He joined the Canadian Army at 19 and became a commissioned officer in the Royal Canadian Horse Artillery. He later re-badged with the Security Intelligence Branch. Over his long career of 36 years, Jack served in many different postings across the country as well as in CFB Lahr, West Germany and in Washington, D.C. He participated as a peace keeper with the United Nations on a mission in Egypt.

He met and married his wife, Linda while in Winnipeg, Manitoba. Despite many moves, they were able to raise a loving family and find "home" wherever they were. After retirement, he and Linda enjoyed traveling the length and breadth of Canada and the United States, and circumnavigated the globe by cruise ship.  Among his favourite places in the world were his cottage on Zwicker Lake, NS and later his Burgesswood home near Perth, Ontario where he went boating with his grandsons on Otty Lake.

Jack will be remembered for his devotion to his family, his story-telling and sense of humour, as well as for his mild addiction to history (according to his children whom he dragged to many a military site and cemetery across the globe!) Internment in Beechwood Cemetery at a later date. 

In lieu of flowers, donations to the Ottawa-Carleton Association for Persons with Disabilities would be welcomed. 
Digital Guestbook
Mary Low
Thinking of you all at this time of sadness and loss. RIP Uncle Jack..please give Mom a hug from me. Love, Mame
Earle w.Saunders
God Bless you, let the love of Lord Jesus shine on you and give you peace and may you join those who have gone before you through eternity.
Laurie McCannell
Sympathy and comfort to your family in your loss, peace and memories and friendship alongside you.
Don and Joanne McVee
Sending sincere condolences to Linda and all of the family. Jack was a dear friend, a valued comrade and a fine officer. He will be remembered, by his military comrades, as a diligent officer and a trusted leader. Farewell old buddy, rest easy.
Deanna Toxopeus
My sincere condolences to all of you. I have fond memories of Mr. Nixon from my teens and he will be missed.
Susanne Clark nee Day
I am so sorry to hear this news. Sending love and prayers you way.
Tom & Sharon Guntzel
We are deeply saddened by your great loss. May the good Lord wrap His arms around you and give you all His peace. Love and hugs.
Vicki Whalen
I am so saddened to hear of the passing of you dear father . My heart is broken for you and your family, Wendy. I will keep you in my thoughts and prayers during this very difficult time. Your Dad will be resting in a beautiful place now and will be in the company of my Dad, and many others who served our country.
Captain James Hill (retired)
Jack was my boss for 4 years. Never was a better man to work for or work with. My deepest condolences to his family.
Ted Parkinson
So sorry to hear of Jack's passing. A great officer and family man, dedicated to his craft. He'll be sorely missed.
Sign digital guestbook