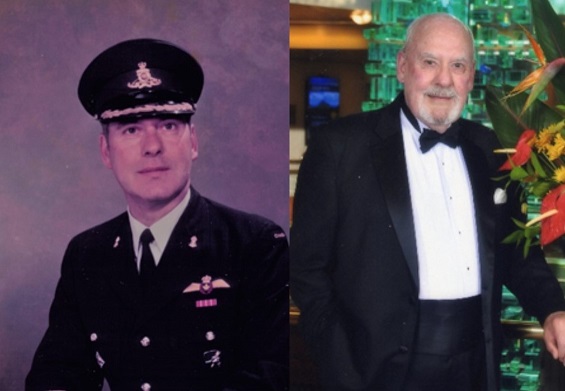 On Thursday, April 2, 2020, at the age of 82, Vic took his leave for blue skies and fair winds, a victim of Covid 19. He will be deeply missed by Patricia, his wife, best friend, travelmate and partner in so many things.  Life will never be the same without him. He will be lovingly remembered by his daughters Lee-Anne (Chuck) and Liese as well as his stepson Ian (Becca) and stepdaughter Krista (Jeff).  His grandsons Bob, Benjamin and Jacob will have fond memories of time spent with him. Predeceased by his brother Richard (Ingrid) he leaves behind his sister Jean (Jack), and brothers Reginald (Paulette), Frank (Simonne), Gary (Dona) and many nieces and nephews. 
Vic had a full, exciting and successful life, serving Canada for 39 years in the Royal Canadian Artillery.  Not only did his service take him right across Canada but he spent time in Germany, Italy, the UK, the USA, Norway, Belgium, Australia and New Zealand. He enjoyed all the postings, all the challenges that he faced but his favourite by far was his time as an Air Observation Post Pilot.   
Upon retiring Vic maintained his military affiliation, actively involved with the Conference of Defence Associations, the Canadian NATO Defence College Association, the North Atlantic Council, RUSI Vancouver, Air OP Pilots Association and the Ottawa Gunners. He made his mark in so many projects but one, most important to him was the Honour House in New  Westminster, BC.  His vision and drive provided the impetus to get it off the ground. More recently, his efforts and involvement in launching the Canadian Army Aviation website gave him much satisfaction.
On a personal level Vic was loved and admired by friends and family, old and new.  He enjoyed being out on the golf course, would never refuse a chance to go flying, was a somewhat unique bridge player,  loved a fine meal with his favourite folks, was an enthusiastic traveller and truly appreciated a single malt scotch. With that – raise a glass to Vic!
The family would like to thank the doctors and nurses in the ACE Unit of Queensway Carleton who treated him with such care and respect right up to the end.  It is hoped that a Celebration of Life can be held at a later date, arrangements to be made at Beechwood Cemetery.    
So come my friends be not afraid.
We are so lightly here.
It is in love we are made.
It is in love we disappear.
Digital Guestbook
Jim Stanton
Farewell my friend of 60 years. You were loved and admired by all who knew you. Thanks for everything you did to make this a better place. Honour House BC lives as a testimony to your concern for our troops and their families. I will miss you.
Georgina and Richard Charron
Our deepest condolences Pat, to you and the family.
Col Peter Williams (Ret'd)
To Patricia and family, my sincere condolences on Vic's passing. Ubique, Stand Easy
Tina Rudkoski
To Pat and family,
May you find comfort in the memories of a life well lived and in a person so loved and respected . Please accept my deepest sympathy.
Tina Rudkoski
Dear Pat and Family,
I am so sorry to hear of your loss. May you find comfort in the memories of all of your wonderful adventures.
Carey and Diana Coroy
Condolences to Pat, Liese , Lee-Anne and the rest of the family. Uncle Vic is someone I and my siblings admired all our lives. Our visits were few and far between since we've always lived far apart. Reading through his military career tells us how dedicated and adventurous he was. We were hoping to cross paths several more times in the future. Put your feet up and relax uncle Vic-we'll take it from here!
Carol Coroy
My Uncle was someone special and he will never be forgotten. I will always remember him. Aunt Pat and the family, you are all in my thoughts, prayers and sending you all virtual hugs.
Dave and Murielle Fong
Our deepest condolences at this difficult time.
Joseph and Annette Culligan
Pat and family,
Vic was my BC years ago. We worked hard and had fun in that Battery. He was a gentleman and a good BC. More recently, we have been playing golf regularly at Hylands these past few years, where we always enjoyed our outings. We will miss him. Sincere condolences.
Joe and Annette
Sign digital guestbook