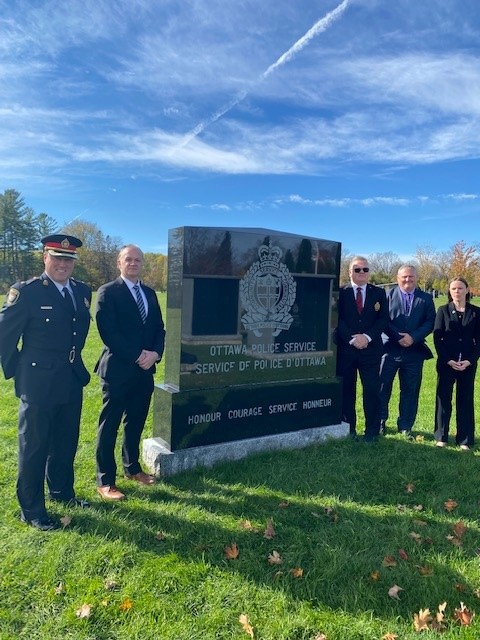 The Unveiling of the Ottawa Police Service Memorial Cemetery Monument
On October 27, 2021, the Ottawa Police Service Memorial Cemetery Main Monument was unveiled under a blue October sky. Beechwood held a small ceremony to mark this momentous occasion.
The Ottawa Police Service Memorial Cemetery was founded in October 2011, in partnership with the Ottawa Police Association and Senior Officers' Association, and the support and collaboration of the Ottawa Police Service and The Beechwood Cemetery Foundation. In recent years, the newly founded Ottawa Veterans Police Association has joined in this partnership.
The OPS Main Monument is the culmination of 10 years of fundraising, community engagement and hard work by partners. The Main monument reflects the over 150 years of Ottawa policing and recognizes OPS members and their families for their commitment to the community.
The monument features the official OPS Crest and the motto: "HONOUR, COURAGE AND SERVICE".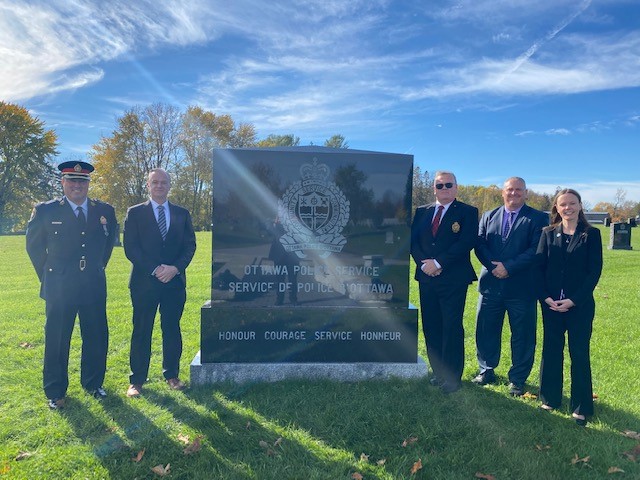 However, the back reflects the history of the regional police services that serve our community prior to amalgamation. It features the historic crests of the Gloucester Police, Nepean Police, Ontario Provincial Police, Ottawa Police and Vanier Police.
The epitaph on the back reads: "IN MEMORY OF ALL THOSE WHO HAVE GIVEN THEIR LIVES IN SERVICE".
It honours all those who have given their lives to the service, be it killed in the line of duty, died from seen and unseen wounds, killed in accidents on and off duty and in any capacity as a member of the Ottawa Police Service. This epitaph connects all those whose lives were lost in the name of serving the community in any capacity past, present, and future.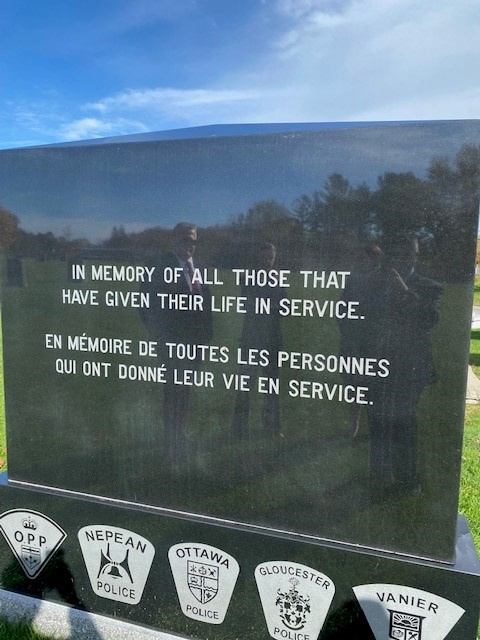 The Unveiling was undertaken by Matt Skof of the Ottawa Police Association, Christopher Rheaume of the Ottawa Police Service, Stephen Carroll of the Ottawa Police Veterans Associations, Manon Bourbeau and James Patterson of the Beechwood Cemetery. A representative of the Senior Officers' Association wasn't unable to attend due to conflicting duties.
For any information about the Ottawa Police Service Memorial Cemetery or the main monument, please contact Manon Bourbeau, Funeral Director and Family Services Representative, 613-741-9530 Ext: 106 or email mbourbeau@beechwoodottawa.ca.