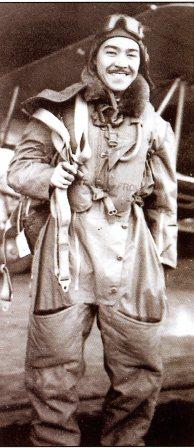 RCAF Timmerman first saw action with the RAF during World War II
Nelles Woods Timmerman was born in Kingston, Ontario in 1913 and was educated there. He studied mining engineering at Queen's University in the 1930s, ran out of money for the course but was able to pay for lessons at the Kingston flying club. He obtained his pilot's license and hoped it would enable him to join the Royal Air Force in England and make aviation his career.
He left Kingston in 1936 for Montreal where he boarded a ship for England, obtaining free passage for feeding and watering the cattle it carried. He made his way to London, successfully applied to join the RAF, was commissioned in August of that year, and after taking a number of flying training courses he joined No.49 RAF Bomber Squadron.
Its aircraft was the single-engine Hawker Hind, a front-line bomber/dive bomber of the time, but in 1938 he took conversion courses to fly new bombers entering RAF service, the twin-engine Blenheim and Hampden. When WWII started No.49 Squadron was flying the Hampden, its crew including the pilot, an observer (mainly responsible for navigation), one gunner and two wireless operators who were also trained as gunners.
On September 3, 1939, the first day of WWII, three Hampdens from 49 Squadron were among the 28 Bomber Command aircraft that flew over the North Sea searching for German warships to bomb, but found none. At that time, RAF bombers flew in close formation to targets, relying on the combined guns of the formation for protection from fighter attacks.
Early bomber encounters with fighters, however, resulted in such heavy losses that Bomber Command changed to night bombing, in the hope that darkness and the scarcity of night fighters would give bomber crews a chance of survival. Night flying, however, made navigation to a target, and bombing it, much more difficult.
In addition to the search for German ships to bomb, early Bomber Command operations included the dropping of sea mines in shipping lanes, reconnaissance flights, the dropping of propaganda leaflets on cities and, in later raids, RAF bombers attacked the steel and other mills that produced war materials, particularly in the industrial Ruhr Valley.
During one of his early sea patrols, Timmerman attacked and sank a "flak" ship, fitted with many anti-aircraft guns intended to protect the ships it accompanied from air attack. On his return from mine-laying in shipping lanes at the mouth of the Elbe River leading to the important port of Hamburg, Timmerman noticed a flare-path used by German sea-planes, saw one following the flares, and using his Hampden as a fighter, with the single machine gun in its nose that he controlled, he shot down the sea-plane. He later repeated the process at a German-occupied airport in Holland, following and shooting down a German bomber returning from a raid on England and using the airport's approach lights to make its landing.
immerman's courage, determination and leadership resulted in his appointment as Commanding Officer of a bomber squadron and the award of the Distinguished Flying Cross, and on completing his first tour of operations he was removed from squadron service to serve for a time on the staff of a training station.
He started his second tour in March, 1941 but in August of that year was appointed Commanding Officer of the second RCAF squadron (No.408) formed in Bomber Command. In Sept. 1941 he received from King George VI the Distinguished Service Order. When he had completed 50 operational flights Timmerman returned to Canada and in March, 1942 became the Chief Instructor at a pilot-training station. He returned to England in July, 1943, responsible for the training of Bomber Command aircrew and in November, 1944 he transferred from the RAF to the RCAF.
Timmerman's post-WWII service included three years as chief operations officer of the Allied Air Force based in France, four years as commanding officer of the RCAF Station, Chatham, N.B., deputy commander positions with NORAD Regions and Sectors, and on retirement from the RCAF he became the Director of Emergency Measures Ontario. Following his death on Dec.4, 2001 Air Commodore Nelles Woods Timmerman DSO DFC MiD CD was buried in Beechwood's National Military Cemetery.
Read these next