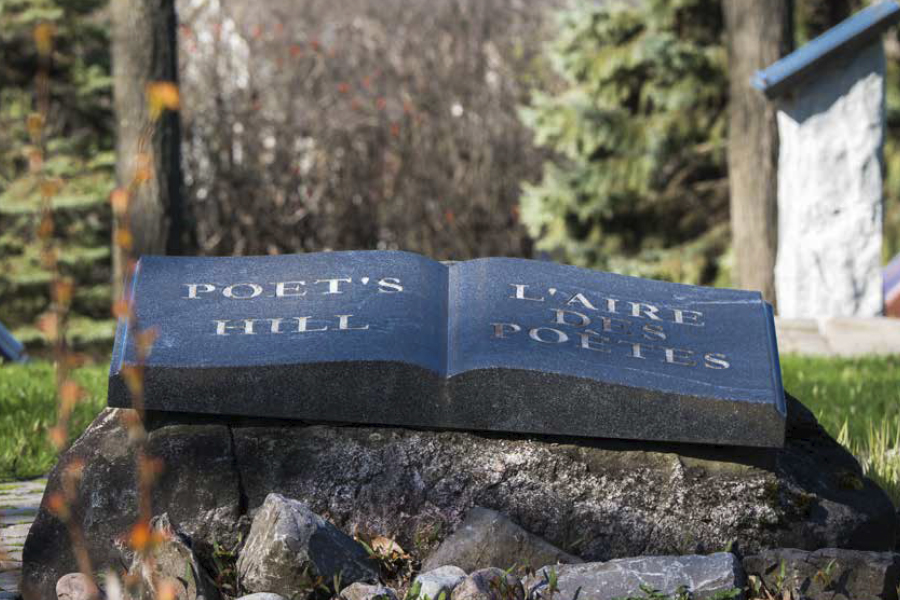 Overlooking the Parliament of Canada, Poet's Hill stands tall above the city that has changed so much since Beechwood first opened its doors in 1873. The meandering path climbing alongside large stone retaining walls leads you to the focal point of this section - the monument of an open book, inscribed as "Poet's Hill, l'aire des poètes".
The century old trees nearly enclose Poet's Hill, giving visitors the feeling of quiet and contemplation. Poet's Hill is the perfect place to reflect and walk among the book shaped monuments, as many of them have favourite passages or sayings specially chosen by those interned at Poet's Hill.
The podium is surrounded by four flower beds, each marking a different period of Ottawa's writers: William Pittman Lett, Arthur Bourinot, Archibald Lampman, John Newlove.
On the road just a little further up the hill, one can discover Lampman's sonnet written in 1894 inscribed on a plaque, detailing the wonder of the Beechwood Cemetery.
The beautiful Poet's Hill, originally conceived as the last anchor of the Poets' Pathway, became a reality in 2006.
Read these next