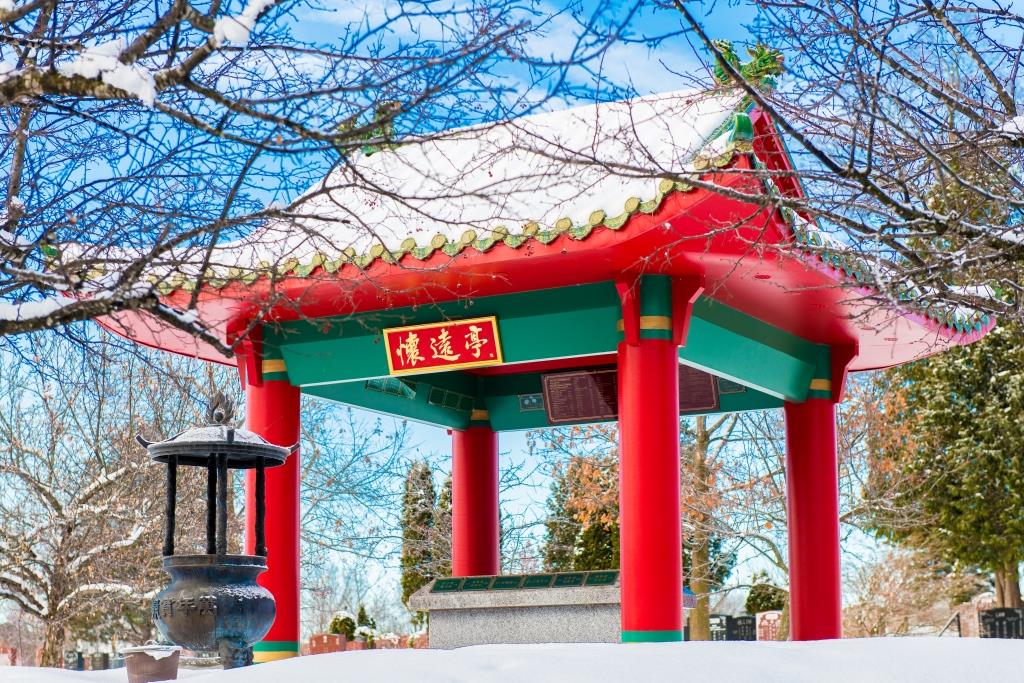 Ottawa-Chinese Section at Beechwood.
One of the first things visitors will see when entering the southeast corner of Beechwood Cemetery is a pagoda honouring the ancestors of Ottawa's Chinese community.
Built-in 1995, the red, green and gold structure, standing on four pillars surrounded by flowers and trees, is one of the distinctive landmarks of Canada's national cemetery, an island of tranquillity in a city of one million people. It is designed according to Chinese religious principles, and surrounding the circle in which it lies are the graves of over 4,000 Chinese-Canadians, with room to grow for generations.
They date from the first influx of former railway workers to third- and fourth-generation members of Ottawa's now-thriving Chinese-Canadian community. Many of the cemetery's early occupants were male and buried alone. They had been recruited by agents in China to work on the Canadian Pacific Railway, and when the epic job was done they'd come to the capital, where federal politicians had passed immigration legislation preventing them from bringing their families to Canada. Some Chinese had their bodies shipped back to their homeland after they died. Many died alone without money to make the trip, or even to finance a funeral, spurring members of the local Chinese community to come together and help.
In 1925, funds were raised to designate an area at Beechwood a Chinese section. However, the first burial did take place in 1903. Twelve years later, civilian transportation across the Pacific Ocean was cut off with the outbreak of war between China and Japan, and another 50 lots were set aside.