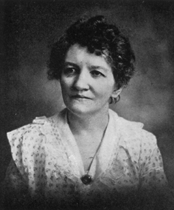 Heritage plaque celebrating Fredericton writer will finally identify her
When Brittany MacKenzie and her partner, Matthew Coffey, first viewed Little Glencoe House in Fredericton's St. Anne's Point heritage district with thoughts of purchasing it, something immediately caught their attention.
It wasn't the Scottish dormers.
It wasn't the emerald green door.
It was the heritage plaque. "It's just interesting to see plaques on houses," MacKenzie said. "We had a look at it and it was really clear that something was missing."
The plaque read: LITTLE GLENCOE 1847 This house with its Scottish dormers was occupied by the sister of Sir Charles G.D. Roberts, herself a respected writer.
That "respected writer" was Elizabeth Roberts MacDonald. But her name was nowhere to be found on the plaque.
Click here to read the article.
Elizabeth Roberts MacDonald (1864-1922)
A member of the New Brunswick's literary Roberts familes, Elizabeth Robert MacDonald wrote poetery and later became involved in the suffrage movement in Bristh Columbia.