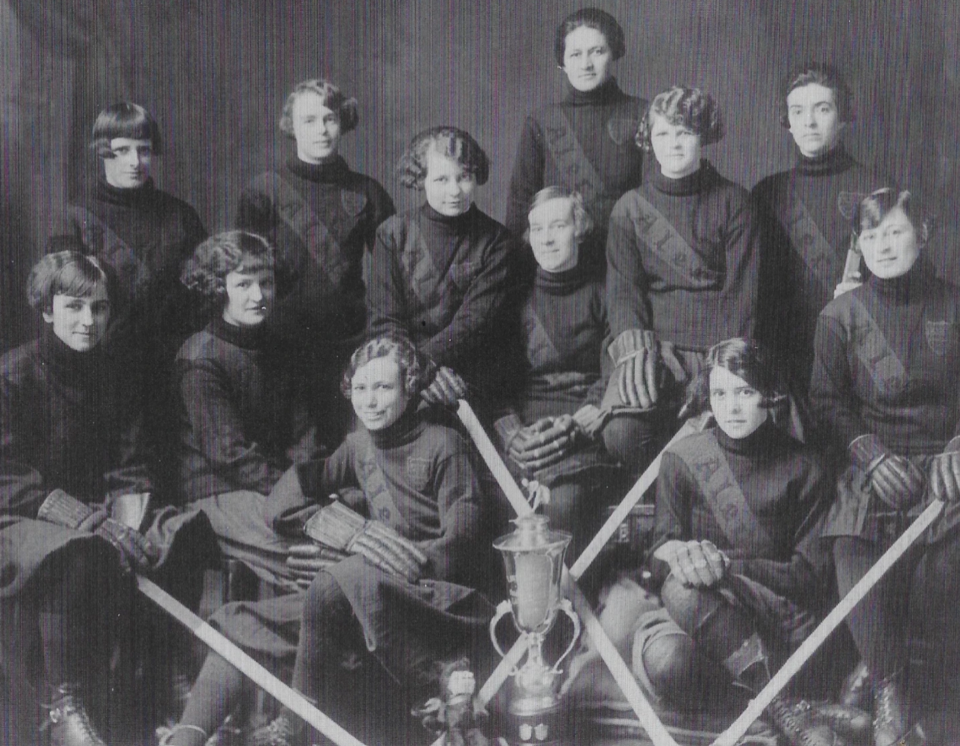 A city champion - SHIRLEY MOULDS
SHIRLEY MOULDS - Section 41, Lot 39 E Ctr
Born in Ottawa in 1904, Shirley Moulds lived in the same house in the Glebe her entire life. What set her apart from most women who grew up in the 1920s was not the wide array of sports that she played — tennis, bowling, basketball, softball and hockey — but the proficiency that she displayed, particularly in hockey.
Moulds played for the Ottawa Alerts from 1919 to 1925, a team that won the Canadian Championship six times in those years. On February 5, 1925, the Alerts defeated Renfrew, 4–0, with Moulds getting all the goals.
In 1915, the Ottawa Alerts were organized, featuring the best women's players in Ottawa. The team were immediately champions. In 1916, the club defeated the Pittsburgh Ladies Club three times in one day, then defeated Toronto the following day. The team, based at Dey's Arena was not in a league, but played exhibitions in a circuit from Montreal to Renfrew. Their first coach was Hamby Shore. In 1922–23, the Alerts won the Canadian championship. The club then passed under the sponsorship of the Ottawa Rowing Club. The team would win one more Canadian championship before it was folded in 1929.
In the first game of the two-game Ontario Ladies' Amateur Hockey Association championship series, Moulds scored the lone goal for the Alerts in their 4–1 loss at the hands of University of Toronto Varsity. She was captain of the Ottawa Rowing Club (later the Soloway Mills) Ladies Hockey team — Canadian Champions in 1927.
The Ladies Ontario Hockey Association (LOHA) was the first governing body for community women's ice hockey in Canada. It was formed in 1922 and disbanded in 1940. Initially, the league consisted of 18 senior teams from across Ontario, from bigger cities such as Toronto, London and Ottawa, to smaller centres such as Bowmanville, Huntsville and Owen Sound. The creation of the LOHA led to the 1925 founding of the Women's Amateur Athletic Federation, which absorbed the LOHA when it disbanded.

 
Moulds and this team are featured at the Hockey Hall of Fame. In addition to her hockey prowess, Moulds was a leading scorer for the Ottawa and District Champion Alerts basketball team, played shortstop on the Rowing Club's city and district champions softball team and was a top scorer on their championship basketball team.
She was also a three-time city champion in tennis in 1923, 1924 and 1925 and a bowling champion in her 50s.
Moulds was inducted into the Ottawa Sports Hall of Fame on May 5, 2010.
Read these next