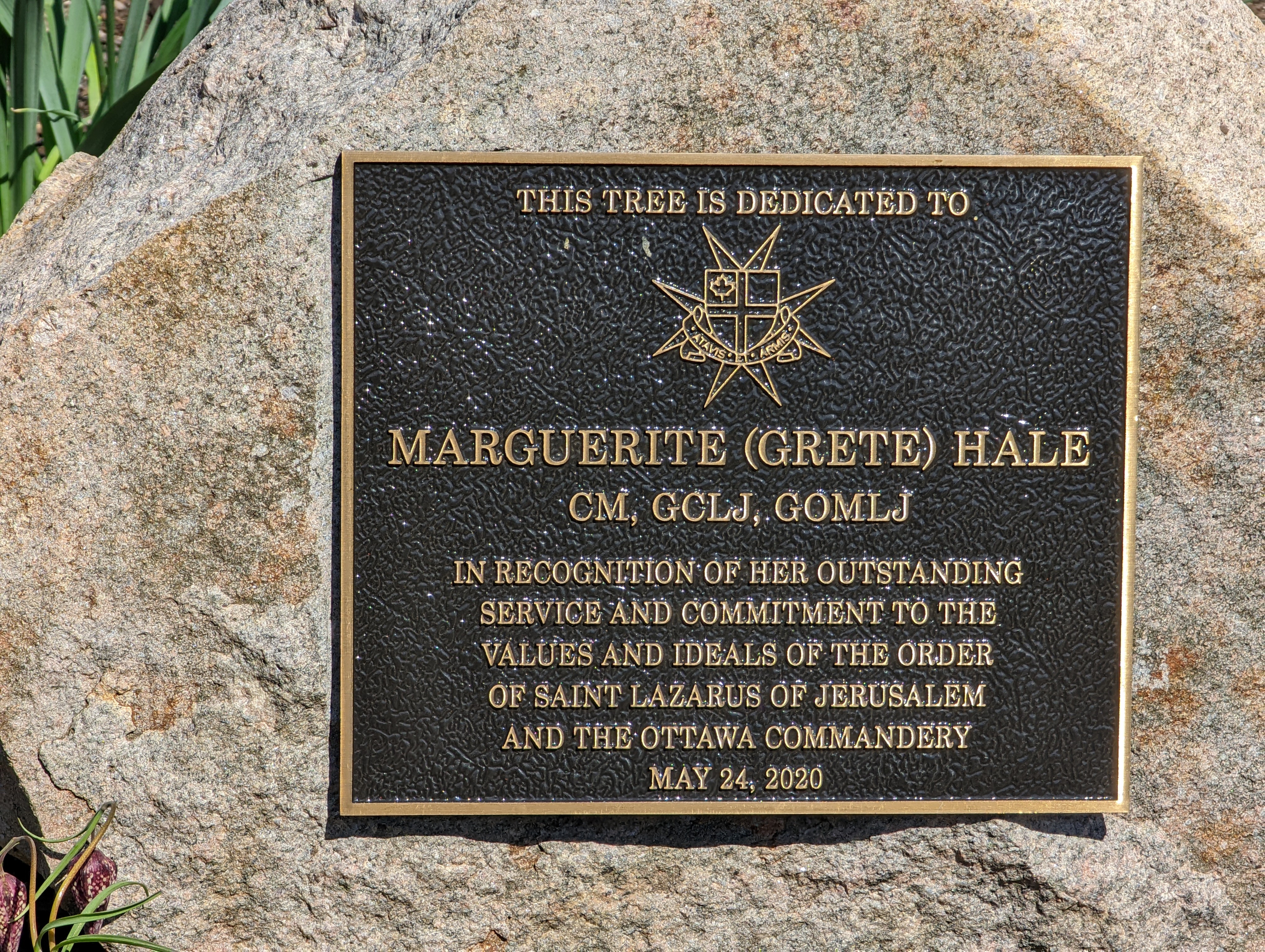 Celebrating and Honouring The Contribution of Dame Grete Hale to the Order of Saint Lazarus in Canada and Beechwood Cemetery
On May 7, 2022, The Order of Saint Lazarus in Canada - Ottawa Commandery and Beechwood Cemetery celebrated and honored Dame Grete Hale' for her contribution to the Order of Saint Lazarus in Canada and Beechwood Cemetery with a dedication of tree and the unveiling of a plaque.
Grete Hale helped ensure the existence of Beechwood as we know it today. Her leadership and tenacity have been evident over the years, as has her dedication and love for Beechwood. She was instrumental in inviting me to join the board and has always been a friend and mentor to many. She has always chosen the road less travelled, making a difference in all areas she has touched and especially here at Beechwood. The tree will provide shelter as it has for many people over the years, said Claire Beckton, vice chair of the Beechwood Cemetery Board.
Colonel M. Vaughan Langille said that over the years her resolve has been put into action to become the embodiment of the unwavering and dedicated virtue of "giving back". This is reflected in her role as a loyal helper and role model, involving unlimited long-term community service, rightly recognized with awards from her peers.
Along with this was appropriate recognition through public awareness of Grete's dedication and her legion of benefits to our local Ottawa community, as well as nationally and internationally. Her community service has spanned many thousands of volunteer hours involving an eclectic array of diverse community organizations. The genesis and then the orchestration of her convictions led her to choose them wisely. She has developed a correlation and sense of purpose that resonates with both the positive attributes and the complexity of socially conscious or charitable work, as also embraced by our Order.
Social or charitable work takes many admirable forms while promoting better service to humanity. Grete's ability in the boardrooms of provincial and corporate enterprises is well known, while the wide range of her altruistic activities included the socially conscious field of the humanities.
Grete Hale Chair Emeritus C.M., B.J., G.C.L.J., D.U., F.H.S.C., F.R.C.G.S.
Graduating in journalism from Carleton University in 1954, Grete Hale, having served as Director of the North American Life Assurance Company, Director of Consumers Gas and as Chairman of the Board of Morrison Lamothe Inc. from 1989 to 2004, has demonstrated her unrivalled leadership in the boardrooms of Canadian business and in the social-conscious realm of the humanities.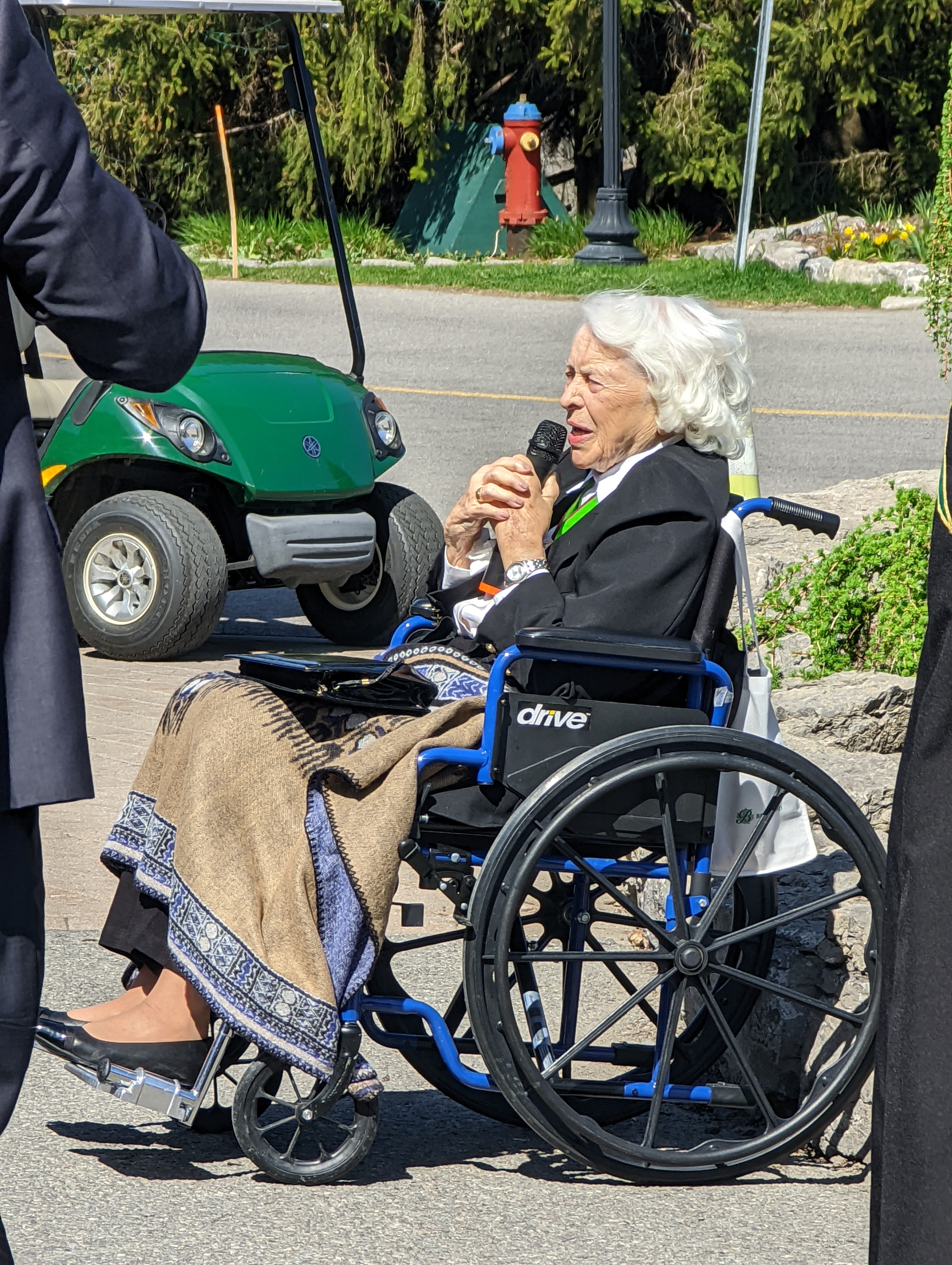 Grete's list of accomplishments, awards and special recognitions is all but infinite; among them, Order of Canada, Senator in the Order of St. Lazarus of Jerusalem, Woman of Distinction-Mayor of Ottawa's Award for Community Service, Lifetime Achievement Award with the YM-YWCA, Commemorative Medal for the 125th Anniversary of Confederation, the Ottawa-Carleton Philanthropy Award, Outstanding Volunteer of the Year, Canadian Women Entrepreneur of the Year Award-Lifetime Achievement Category, Queen's Jubilee Silver Medal, Ottawa Community Builder of the Year Award, Scouts Canada Foundation National Salute Award, and Honorary Doctorates from the University of Ottawa and Carleton University, and an Honorary Degree from Algonquin College, recognizing her lifetime of achievement and service to the Ottawa community.
Grete served on the Agricultural Food and Beverage Sectoral Advisory Group, reporting to the Minister of International Trade on the Free Trade Agreement, was reappointed to serve for the GATT negotiations and NAFTA, chaired the Task Force to amalgamate the three Ottawa nursing schools under Algonquin College, served as a Board Member of the Hospice at May Court and was founder of the Friends of the National Library of Canada. She published a biography of her father entitled The Life and Times of Cecil Morrison: The Happy Baker of Ottawa. She also served as the first-ever female Honorary Colonel of the Governor General's Foot Guards from 2011 to 2013. Grete has served as a Director at Beechwood since 1992.