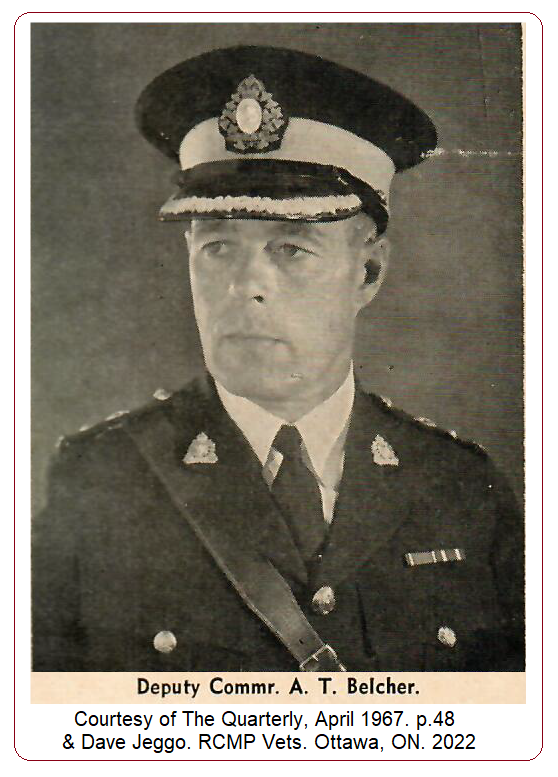 Born Into The Service - Alan Thomas Belcher
Alan Thomas Belcher
Section 21, PC 109
Alan Belcher was 'born into the service' on 8 March I 903 at the Calgary Division H.Q. of the R.C.M.P. where his father, later Deputy Commissioner T. S. Belcher, was stationed as a Sergeant Major. Alan joined the RCMP at the age of sixteen as a trumpeter, and as soon as his age permitted he followed an interest which was to be lifelong by obtaining a post in the Arctic.
He maintained his interest in and close association with that region even after advancing rank precluded further service in Northern Canada. He was known throughout the Force as a strict disciplinarian, yet he held the respect of all and the affection of most who knew him because he had the gift of understanding the viewpoints of others even though he might not be in agreement.
The Arctic is not an easy judge of a man; but Alan Belcher was held in high esteem by the Inuit and Indigenous Communities and other Northern communities members. The arduous dog team patrols he carried out while in the Artic were not newsworthy events because they were made routine by his knowledge, care, and thoroughness; he made no mistakes.
An incident in his northern service contributed a placename in Dease Strait when the motor vessel Ptarmigan under his command suffered an engine failure during a storm. As the boat went ashore a passenger gave birth to a child, and although the vessel could not be salvaged, the mother and child were saved. The point of land where this incident occurred is now known as Ptarmigan Point. He became an inspector in 1931, then officer in charge of the Great Slave District.
In 1936, he commanded the RCMP Musical Ride. As an Assistant Commissioner, he was in command of all provincial detachments as of 1950. On July 1, 1954, he was appointed to the position of deputy commissioner. After retiring in 1956, he became executive director of the Arctic Institute of North America and served until 1960.
Alan Belcher died on October 14, 1966.
Read these next