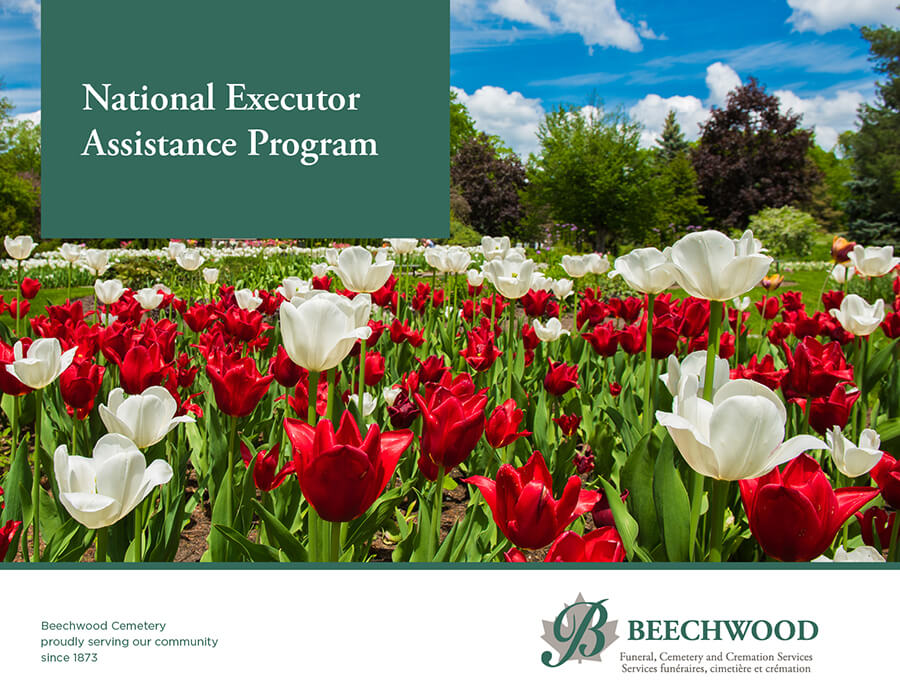 Beechwood Executor Advisor Program
As the National Cemetery of Canada, we understand the importance of being an executor and how time-consuming and complex it may be. We also understand how difficult it is for grieving families to deal with the unfamiliar tasks that follow the death of a loved one. Our Beechwood Executor Assistance Program offers to help you complete the majority of the necessary Government documents and ensure you feel confident in your role.
Beechwood can provide valuable assistance for many of the tasks that executors and survivors must deal with when settling an estate.
The Beechwood Executor Assistance Program prepares the majority of the necessary forms, paperwork and labels for the documents, including:
Advise Executor or Trustee of their responsibilities
Communicate with the beneficiaries and notify them of their interests in the estate.
Advise the insurance company of the death.
Apply for all pensions, death benefits, life insurance or any other benefits that are payable to the deceased's estate.
Letters of Direction for all known memberships, associations, etc.
If there are any life insurance policies, RRSPs or any other assets that name a beneficiary other than the estate, notify that beneficiary.
Advertise for creditors and claimants; if appropriate.
Prepare of list of tasks which remain for the Executor or Trustee to administer and settle the Estate.
Included in the services we provide to our families, Beechwood would like to make available this cost-effective program to all Canadians, from coast to coast to coast. We know this time in your life is hard enough without needing the extra burden, both emotional or financial, of being the executor.
Read these next