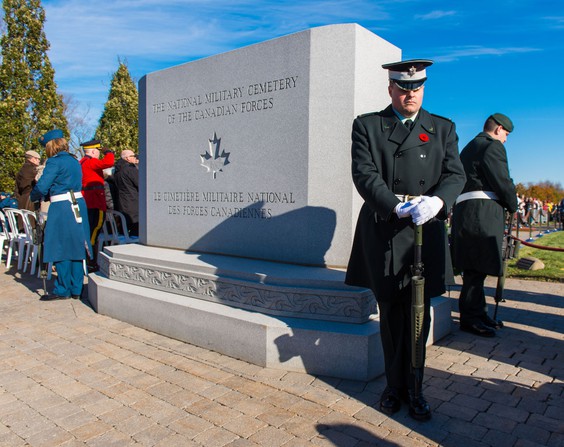 Beechwood Cemetery — Where Canadians come together to observe solemn acts of remembrance
In the final weeks and days leading up to Remembrance Day on Nov. 11, Canadians' thoughts naturally turn to remembering the veterans who are no longer with us — the courageous men and women who put their lives on the line for Canada in times of war, conflict and peace. Whether their duty kept them on home soil or took them to some far-flung theatre of operations overseas, it is our solemn duty as a nation to honour their sacrifice.
At Ottawa's Beechwood Cemetery — a National Historic Site designated as the National Cemetery of Canada, and home to the National Military Cemetery of the Canadian Forces and other service-related memorial cemeteries — remembrance is a year-round observance that takes on special emphasis at this time of year.
On Nov. 1, the National Military Cemetery at Beechwood hosts a No Stone Left Alone event where school students, soldiers from 76 Communication Regiment and the community at large unite in a poignant remembrance experience. The ceremony involves students and others placing poppies on each and every soldier's headstone in different sections of the cemetery to honour Canada's fallen military.
On Nov. 5, Beechwood welcomes a special group of folks to the consecrated grounds of the National Military Cemetery — people whose specialty is the ground itself. For the past 17 years, local horticultural and landscaping companies, and other sponsors, have been joining Beechwood's head horticulturalist, Trevor Davidson, to volunteer their time, skills and products in support of an Annual Day of Tribute. It is their unique way of honouring Canadian Armed Forces members and their families during this time of remembrance.
On Nov. 7, Beechwood hosts the French-language Annual Remembrance Day Ceremony for the people of France and the French community in Canada. This culturally inspiring ceremony, organized with the help of the Embassy of France in Canada and La Société Nationale d'Entraide de la Médaille Militaire, takes place at the Field of Honour (section 27), beginning at 2 p.m.
Finally, on Thursday, Nov. 11, Beechwood Cemetery and the Department of National Defence invite military members of the National Capital Region and their families and friends to observe the main Remembrance Day Ceremony Service at the National Military Cemetery of the Canadian Forces. The ceremony gets underway at 10:30 a.m. As with all gatherings at Beechwood Cemetery, visitors are asked to comply with local COVID-19 health precautions.
In his 20-year retrospective of the National Military Cemetery for The Beechwood Way magazine earlier this year, Brig.-Gen. Gerry Peddle (Retired), Chair of the Beechwood Board of Directors, wrote, "The National Military Cemetery has become hallowed ground in Canada for military burials for all Canadian Armed Forces members, veterans and their families … a dignified final resting place." The annual Remembrance Day observances create an opportunity to learn more about the military veterans who have been entrusted into Beechwood's eternal care.
Veterans like artist Alan Brookman Beddoe (1893-1975), and poet Arthur Stanley Bourinot (1893-1969), whose graves lie within sight of the National Military Cemetery that was dedicated 20 years ago this year. Born within months of one another, the artist and the poet both served overseas during the First World War, and both had the misfortune to be taken prisoner. Bourinot began writing and publishing poetry while still an undergraduate at University College in Toronto. It was a passion he would pursue even during training as a pilot with the Royal Flying Corps in France, and later as a prisoner of war in Germany.
In late 1916, while still in France, Bourinot penned a poem whose words remain as simple and moving as the day he wrote them from the battlefield more than a century ago: "WHEN PEACE HAS COME, and I return from France, I know the places that I'll long to see … I shall see the cottage on the hill, with all the loveliness of summer days … And I shall climb the path and ope the gate, when peace has come, if peace comes not too late."
The wistful Bourinot had no inkling that eight months later he would be captured following an aerial battle behind enemy lines, and spend the remainder of the war as a POW. In later years, this "gentle poet," as he was described in his alma mater's war memorial book, would go on to enjoy a distinguished career as a lawyer, scholar and poet.
Beechwood Cemetery is filled with the stories of veterans like Beddoe and Bourinot who made outstanding contributions to Canada during war and peace. Wherever they lie, it is their service we honour.
Lest we forget.
Read these next