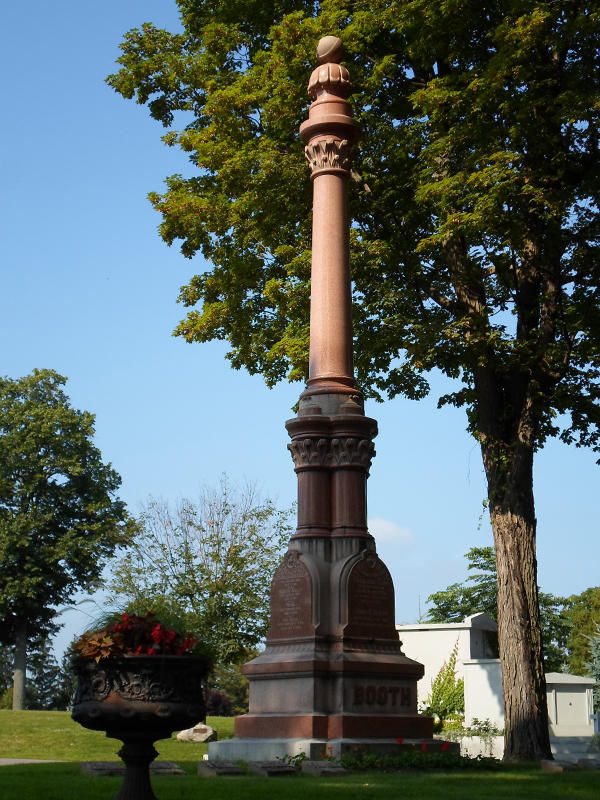 John Rudolphus Booth, 1827-1925
Ottawa's foremost lumber baron
Section 50½, Lot 1
Born in Waterloo, Québec, on April 5, 1827, Booth came to Ottawa in the 1850s to seek his fortune with a mere nine dollars in his pocket. Although he made steady progress, building a small shingle mill at Chaudière Falls, he faced several significant setbacks until his first breakthrough in 1859, when he secured the contract to provide lumber for the construction of Canada's new Parliament Buildings.
Booth made a substantial profit from this contract, which allowed him to pursue further business opportunities. In 1867, he outbid other lumbermen for the Madawaska River timber limits formerly held by the late John Egan. He turned a $45,000 investment into an enormous profit; years later, he turned down an offer of $1.5 million for those limits. Eventually, his mills produced more lumber than any other operation in the world.
Booth also owned a fleet of Great Lakes boats as part of his extensive transportation system. While the Ottawa River watershed provided a natural highway for transporting timber rafts, its tributaries did not extend into the outer reaches of Booth's timber limits. So he embarked on a new enterprise: building a railway system to complement his other operations. He already owned the Canada Atlantic Railway, which he used to transport sawn lumber from his Chaudière mills to his planing mill and sorting yards in Burlington, Vermont, and to sales offices in Boston. The new Ottawa, Arnprior and Parry Sound Railway's primary purpose was to transport timber felled in areas inaccessible by waterway.
Since the production of pine timber alone could not offset the cost of the railway, Booth diversified by adding passenger and freight cars. He also built grain elevators on the Great Lakes and formed a freighter company so that growers could use his railway to ship Western grain. And they did, since the railway shortened the route between Chicago and Montréal by 1,300 km. Booth sold the railway to the Grand Trunk Railway in 1904 for $14 million.
Booth was among Ottawa's most generous philanthropists. He made considerable donations to charitable institutions and other agencies that cared for the sick and destitute. As one of three founding members of St. Luke's Hospital, a predecessor of the Civic Hospital, he donated $10,000 towards its establishment.
Booth eventually expanded his business ventures into pulp, paper and cardboard production, remaining active right up to a few months before his death at 98. He never recovered from a cold caught during one of his yearly trips to his Madawaska timber limits. On December 8, 1925, he passed away as one of the richest men in Canada, with an estate valued at approximately $33 million.
---