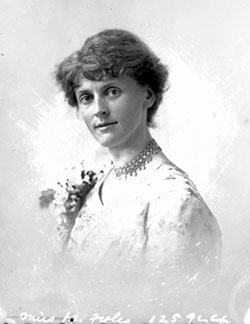 Faith Fyles, 1875-1961
Botanist and artist at Ottawa's Experimental Farm
Section 40, Lot 80 SE, Grave 1
Faith Fyles was born September 30, 1875, in Cowansville, Québec. Her father was the Reverend Dr. Thomas Fyles, an Anglican clergyman (and entomologist) who came to Canada from England to establish churches.
Fyles graduated from high school with honours, entered McGill University with a first-class scholarship and completed a B.A. degree. After graduation, she spent a year studying the flora of Québec with her father and took art classes. Fyles then taught school for six years, which was followed by a year travelling and studying in Europe.
In 1909, Fyles obtained a clerk's position in the Department of Agriculture in Ottawa as an assistant seed analyst. Two years later, she was transferred to the Botany Division at the Experimental Farm as an assistant botanist, where she was put in charge of the Arboretum. She was also responsible for identifying the large number of plants sent to, or collected by, the division. During this time Fyles also prepared a bulletin, Principal Poisonous Plants of Canada, which was illustr­ated with her own paintings and sketches.
In 1920, Fyles became the first artist employed by the Horticulture division, where she worked under William Tyrrell Macoun. Additional publications and the creation of a herbarium came from her work in the Department.
In 1931, poor health forced her retirement, but she continued painting in oils, pastels and watercolours. For two decades she had entered her work in Royal Canadian Art A exhibitions and exhibited it elsewhere, work that expressed an appreciation of nature's beauty, especially that of plants and flowers.
Fyles died on October 22, 1961.
---