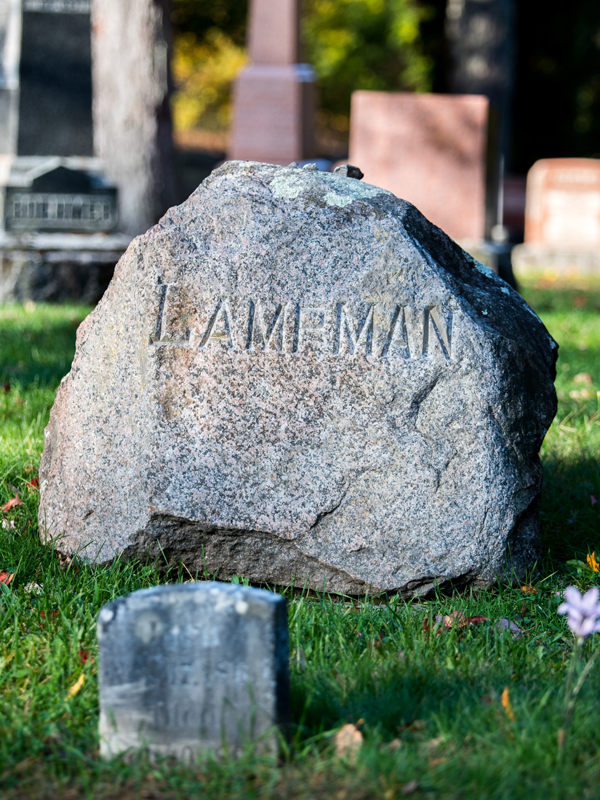 Archibald Lampman, 1861-1899
Confederation Poet
Section 25, Lot 17 N Ctr.
"Here the dead sleep–the quiet dead." (from In Beechwood Cemetery by Lampman)
Born in 1862, Lampman was educated at Trinity College School, Port Hope and Trinity College, Toronto, from which he obtained a BA in 1882. After graduating, Lampman tried his hand at being a teacher. When that was unsuccessful, he instead secured a position in the Post Office Department in Ottawa in 1883 where he remained until his death.
Lampman's true calling was as a poet. He began writing for college magazine Rouge et Noir before graduating to the more prestigious pages of The Week, and winning an audience in the major American magazines of the day such as Atlantic Monthly, Harper's and Scribner's. In spite of this success, Lampman was unable to find a publisher for his first collection, Among the Millet (1888), which he published himself.
In 1896, after some difficulty and delay, a Boston publisher released his second book, Lyrics of Earth (1895; restored text 1978). His third collection, Alcyone and Other Poems (1899), which was in preparation at the time of the poet's death, was issued privately in a few copies. Its contents were incorporated in The Poems of Archibald Lampman (1900), devotedly assembled and edited by his friend, memorialist and fellow poet Duncan Campbell Scott.
Later important collections of his poetry include Lyrics of Earth: Sonnets and Ballads (1925); At the Long Sault (1943), a joint project of D.C. Scott and E.K. Brown based on Lampman's manuscripts; and the Selected Poems (1947). Lampman's Selected Prose was published in 1975.
Lampman is widely regarded as Canada's finest 19th -century English language poet. His ability to write detailed, meaningful poems is among the reasons his work has had a lasting import in Canadian literary culture. Across Ottawa, Lampman is recognized in historical plaques on Slater Street, Daly Avenue, Montreal Road (in St. Margaret's Church) and at Beechwood Cemetery, where he is buried. He appears in the grand stained-glass window at the Main Branch of the Ottawa Public Library together with the likes of Shakespeare, Byron and Tennyson. He has a street named after him, and an annual prize bearing his name is awarded by Arc Magazine to recognize local achievement in poetry.
Reportedly reclusive and shy, Lampman enjoyed a circle of friends drawn mainly from the community of writers and intellectuals in Ottawa. With Scott and William Wilfred Campbell he wrote a thoughtful and lively column, "At the Mermaid Inn" (1892-93) for the Toronto Globe. He was also associated with various literary and scientific groups in Ottawa before which he would read his poems or deliver the occasional paper. He was elected a Fellow of the Royal Society of Canada in 1895.
As a poet, Lampman is noted for his carefully fused poems of nature closely observed in moods of delight and solemn contemplation. Although he showed great skill and some range with the sonnet, Lampman could also be a discursive poet given to narrative and, on occasion, to strong criticism of contemporary industrial civilization.
Afflicted by poor health and frequently of a moody disposition, Lampman appears to have been unhappy with his situation in the civil service but did little to change his life. His poetry, with its tableaux of nature, its oft-encountered dream states, its idealized communities and relationships, was the preferred world of his imagination and poetic experience. In the last years of his short life there is evidence of a spiritual malaise, which was compounded by the death of an infant son and his own deteriorating health.
Lampman passed away on February 10, 1899, at the age of 37.
---