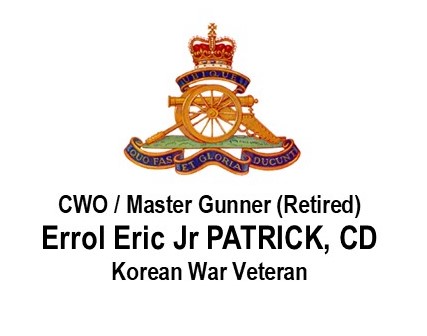 Passed away on January 5, 2021 at the Ottawa Hospital (Civic) with his family at his side. He was born on April 27, 1930 to Alma and Errol Patrick in Montreal. He was predeceased by his beloved wife Bunny (nee Collins) and leaves in sorrow his loving children Kurt (Ginette); Kim (late Joseph); Keith (Patricia).  Much-loved grandfather of Olivia (Dylan), Shane, Thomas (fiancée Sarah), Hannah, Vanessa, Erika. Predeceased by his brother Tony (Barbara) and special friend Stella, he will be deeply missed by his brothers Terry, and Teddy, sisters Tisha, Ty and Tanya as well as his nieces, nephews and friends from coast to coast, plus his furry canine companion Tara.
Errol grew up in Trinidad under the care of his paternal grandfather. At the tender age of 16, he moved to Vancouver and then joined the Canadian Army (35 years) as a Gunner in 1950 and served our country in the Korean War. As a member of the Canadian Armed Forces, Royal Canadian Horse Artillery, he was deeply respected, served with honour and distinction, and was a trailblazer for Black Canadians to serve proudly in uniform. Throughout his life, and with his innovation to embrace technology in his later years, he was able to maintain and foster the multiple friendships that were of such great importance to him.
A devoted family man and husband, some of the family's fondest memories were of exploring Canada and Europe on many camping adventures. He was a loving grandfather who was actively involved with each of their lives and encouraged them to love one another, live life to the fullest and always emphasized the importance of family. He was an active member of the Legion Branch 632 (Past President, Treasurer, and Poppy Fund organizer) and a strong advocate for the care of Veterans and believed "For me, every day is Remembrance Day".
We would like to thank the staff at the A1 Geriatric Unit at TOH for the exceptional care and compassion they provided our father during his final days. In addition, thank you to Wendy and other wonderful neighbours on Vorlage Drive that supported his independent living for so many years.
Due to the Covid pandemic a celebration of life will be held at a later date.
 In lieu of flowers, donations may be made to the Royal Canadian Legion Branch 632 or Charity of choice.
Stand Easy Dad.
"Ubique"
Digital Guestbook
John Crozier
Keith so sorry to hear of your loss. As proud as you are of your father, I'm sure he was very proud of you. He will always be in your heart. God Bless you both.
Patrice Doyle Thomas
May He Rest in God's Peace & Rise in Glory.
Al, Jane, Aarika, Julia and Claire
We are thinking of all of you at this very difficult time. Please know you are in our thoughts and hearts.
Xo
Andre and Sharlene Fauvelle
You will be missed by all.
Wayne Edwards
A cherished friend who I held in high esteem. I thank him profoundly for many great memories. Rest in Peace.
Jim Edwards
Chief Patrick was one of the finest persons I ever met, it was a honour to serve with him.
Russ ByerS
RIP Gunner
EOM
Stand Easy
Brian Reid
EE was a mentor and an example from when we first met 60 years ago. GSSE
Sign digital guestbook