Join us on May 14 2023 at 1:00 PM for the unveiling of the Great Canadian Plaque for The Honourable Bertha Wilson.
More details to come. 
The Honourable Bertha Wilson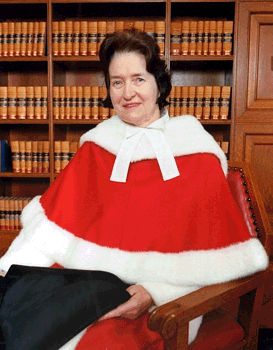 Bertha Wilson was born in Kirkcaldy, Scotland, on September 18, 1923. She is the daughter of Archibald Wernham and Christina Noble. She attended the University of Aberdeen, Scotland, and graduated with an M.A. in 1944. She continued her education at the Training College for Teachers in Aberdeen, obtaining her diploma in 1945. She married the Reverend John Wilson in December 1945 and they emigrated to Canada in 1949.
In 1955 she enrolled at Dalhousie University to study law, and three years later she completed her LL.B. and was called to the bar of Nova Scotia. In 1959 she was called to the bar of Ontario and practised law in Toronto with Osler, Hoskin & Harcourt for 16 years. She was appointed to the Ontario Court of Appeal in 1975 and to the Supreme Court of Canada on March 4, 1982.
She was also appointed to the Permanent Court of Arbitration in 1984. She served on the Supreme Court for eight years and retired on January 4, 1991. Justice Wilson died on April 28, 2007, at the age of 83.