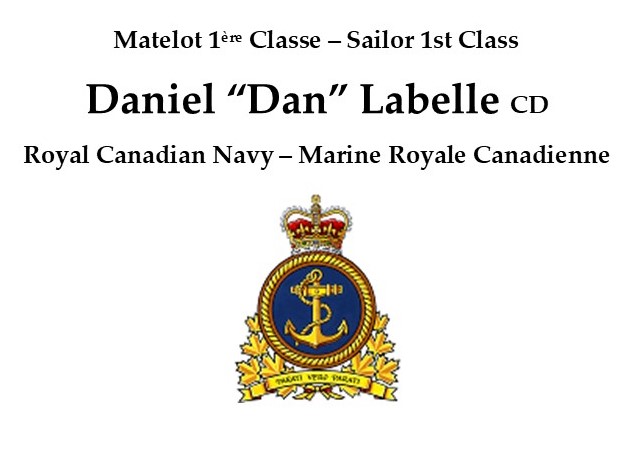 - de Gatineau est décédé soudainement à sa résidence le dimanche 3 janvier, 2021 à l'âge de 52 ans. Il était l'époux bien-aimé d'Annie Bourbonnais et le père adoré de Yanick et Noémie. Il laisse également sa mère Jeannette (née Tremblay). Il est prédécédé de son père Raymond Labelle. Il laisse égalment dans le deuil ses deux soeurs.
Passed away unexpectedly at his Gatineau home on Sunday January 3, 2021 at the age of 52. Beloved husband of Annie Bourbonnais and cherished father to Yanick and Noémie. He is survived by his mother Jeannette (née Tremblay) and predeceased by his father Raymond Labelle. He is also mourned by his 2 sisters.
En 1990 Dan s'enrôle aux Forces canadiennes à Montréal en tant que communicateur naval, il a été muté à Halifax et compléta son contrat de 3 ans. Il s'enrôle de nouveau en 1998 pendant la tempête de verglas et en 2005 il devient spécialiste en communications et renseignements. Pendant sa carrière Dan passera 734 jours en mer et servira sur le NCSM PRESERVER, NCSM FREDERICTON et la Station Leitrim.
Dan first joined the CAF in 1990 in Montreal as a Naval Communicator and was posted in Halifax and completed his 3-year contract. He re-enrolled in 1998 during the ice storm. He changed trades to Signals Intelligence Specialist in 2005. Throughout his career he spent 734 days at sea and was posted to HMCS PRESERVER, HMCS FREDERICTON, and  CFS Leitrim.
De Juin 2015 à février 2016 il est déployé à bord du NCSM WINNIPEG au soutien de l'opération REASSURANCE et l'opération ARTEMIS. Il était récipiendaire des médailles et décorations suivantes; Médaille du service spécial – OTAN (MSS-OTAN) / Médaille de l'OTAN Article 5 pour l'opération "Active Endeavour" / Décoration des Forces canadiennes (CD) avec 1ère barrette / Médaille du service en Asie du Sud-Ouest (MSASO + barrette Afghanistan). Avec le temps passé sur les navires canadiens en mer il devient récipiendaire de l'Insigne de service de mer (bronze).
He deployed on board HMCS WINNIPEG from June 2015 - February 2016 in support of OP REASSURANCE and OP ARTEMIS. He was presented with the following Decorations and Medals: Special Service Medal-NATO (SSM-NATO) / NATO Art5 - OP ACTIVE ENDEAVOUR / Canadian Forces Decoration - 1st Clasp (CD 1 st Clasp) / South-West Asia Service Medal and Afghan Bar (SWASM + Afghan Bar). His time spent at sea earned him a bronze Sea Service Insigna.
Daniel était un joueur passionné d'échecs avec un esprit stratégique. Durant certains jours tranquilles au travail, il tentait de recruter de nouveau joueurs ou à discuter la fine pointe du jeu d'échecs en jouant avec ses collègues. Il était également très passionné par son métier et tous ses collègues bénéficiaient de son mentorat, son humour et son professionnalisme.
Dan was a passionate chess player with a great strategic mind, on quiet workdays he would always be trying to recruit new chess players or discussing finer points of the game while playing with interested co-workers. Passionate about his trade, Dan was appreciated by his fellow colleagues for his mentorship, sense of humour and professionalism.
Son temps libre était dévoué à sa famille, le véritable centre de son univers. Il était l'exemple parfait d'un père doux, drôle, protecteur et attentionné, ainsi qu'un époux affectueux, attentif et aimant.
His spare time was mostly devoted to his family, the centre of his universe. He was the perfect fatherly example; gentle, funny, protective, considerate and an affectionate, attentive and loving husband.  
Les funérailles en présence de l'urne aura lieu en l'Espace sacré du Centre commémoratif national Beechwood, 280 av. Beechwood, le jeudi 14 janvier, 2021 à 13h suivit de l'inhumation avec honneurs militaires au Cimetière militaire national des Forces canadiennes. Étant donné les critères de limite maximale de capacité imposés en raison de la pandémie, ceux qui désirent assister à la diffusion en direct de la cérémonie sont priés de s'enregistrer en utilisant le lien suivant : https://us02web.zoom.us/webinar/register/WN_pB2uGOzRR-CGpLhuZzvoPg
Funeral Service will be held in the Sacred Space of the Beechwood National Memorial Centre, 280 Beechwood Ave. Thursday January 14 at 13:00 followed by interment with military honours at the National Military Cemetery. Given the capacity attendance limits imposed during the pandemic, those wishing to attend the service virtually can register for the livestream service with the following link https://us02web.zoom.us/webinar/register/WN_pB2uGOzRR-CGpLhuZzvoPg
Au lieu de fleurs, des dons à l'organisme charitable de votre choix seraient appréciés.
In lieu of flowers, donations to the charity of your choice will be appreciated.  
Digital Guestbook
Sylvain Jolicoeur
Daniel, un homme doux, patient et surtout très mystérieux. Nous avons essayé à plusieurs reprises de savoir ce qu'il faisait comme travail, mais toujours sans succès. Un bon gars qui part beaucoup trop jeune et rapidement. Salut Daniel, Lyne et Sylvain.
steve martel
C'est en 1979 que nos chemins se sont croisés...2 ti-gars de la ville qui jouait dans la même ruelle...qui aurait pu prédire que nous passerions autant d'années à jouer ensemble. Je me souvient vaguement des promenade en vélo sur la piste cyclable. Par la suite, on s'est perdu de vu. Tu es déménagé dans le nord où y fait frette.. et un moment donné, par un grand hasard, tu es revenu sur mon chemin, dans mon école, voir même, dans ma classe, comme disait le prof de soudure quand il prenait les présence ( Labelle Daniel) :-) c'est vraiment là que c'est devenu sérieux (notre amitié) . Te souviens-tu de nos nuits blanches sur le toit du bloc appartement à Stéphane à jouer à risk ? ou déjà fin stratège tu nous manipulait pour gagner...tu avais déjà ça dans le sang (ta vocation militaire) . Nous avons passé plusieurs nuits blanche à sillonner la rue Ste-Catherine ou juste à chiller comme dirait les jeunes d'aujourd'hui....sans le savoir on se préparait à vivre de nuit, comme notre travail nous l'a demandé pendant des années...je me souviens aussi de nos tournois de hockey sur table chez ta mère ou elle prenait soin de te nourrir, mais pas nous... et oui le ti-gars à maman...finalement tu es parti dans l'armée une première fois, malgré que tu sois allé à Vancouver, internet n'existant pas à l'époque, nous avons correspondu. Et que dire du temps où tu étais à Halifax et que tu venais chez moi à Longueuil quand tu étais en permission...ta première mission dans l'armée en 1992, si je me souviens bien...les 350 ans de Montréal...pour un gars qui voulait voir du pays, ça commençais mal...Chantal, Marc et moi étions allé te voir sur ton bateau au vieux port....après ton premier contrat tu es revenu. Nous avons vécu d'autre expérience, billard, racquetball, course à pied que Godefroy nous avait initié en 1986 à cause de son père...on en a fait des course, même le marathon de Toronto ou Patrice nous a aidé à 2 occasions à se préparer....c'est dans cette période que j'ai renoué avec une certaine Josée, amie d'Annie. Tu vois ou je veux en venir....ta femme et à cause d'un problème que je n'ai plus aujourd'hui grâce à la calvitie , c'est là que nos chemin se sont tous liés...là nous sommes rentré dans une multitude de moment intense d'amitié non explicable qui a forgé notre relation...mariage, baptême , nos visites en Nouvelle Écosse , votre deuil de Francis, nos bye bye au Nouveau Brunswick, notre première visite à Kingston suivi de celle de Gatineau, des spectacles de nos enfants, nos parties de Scotland Yard...on filait le parfait bonheur...mais la vie étant ce qu'elle est....les dernières années nous ont éloignées...je suis bien content qu'on se soit rapproché en 2020 et qu'on se soit écrit dans le temps des fêtes....tu nous quitte beaucoup, beaucoup trop vite et je ne cesse de penser à ta femme et tes enfants qui auraient tellement voulu profiter de ta présence pour encore bien des années et moi aussi et bien d'autres je présume...je ne t'oublierai jamais...garde nous une place, soit en paix on te rejoint dans quelques années mon ami.....
James Liebrecht
To Annie, Yanick, Noémie, and the rest of the Labelle family, you have my deepest sympathies. Dan loved you more than anything. I was extremely fortunate to work closely with Dan, and everyday he had a story to tell, or had some good news to share about you.
Dan, thank you. Thank you for taking me under your wing when you arrived on shift, and teaching me everything there is to know. Thank you for being the best mentor anyone could ask for. You taught myself and countless others to work hard, take an interest, and attack the mission. You taught us to face adversity with strength and courage. You have helped grow and inspire a new generation of sailors, soldiers and aviators, and we will forever be grateful to you and inspired by your work ethic and pursuit of knowledge. And finally, thank you for the years of friendship. Your Danerisms and sayings were legendary (your carrots are cooked!), and your stories were entertaining on those long nights on shift, or after last eve shift at our get-together's. You will be greatly missed.
Rest easy Dan.
Lucie Ménard
Mes condoléances à Annie, Yanick et Noémie pour ce départ si soudain.
CPO1 (Retired) Humphrey
My prayers and condolences to the family, Fair Winds And Following Seas Dan. RIP.
Pauline Beaudette
Toute ma sympathie à la famille
Alex Templeton
I have only fond memories of Dan. A super nice, kind, knowledgeable man. I had spent some time with him on courses and at work in the CAF and always friendly and easy to talk with. He is fondly remembered by all.
My condolences to family and friends.
Virginie Tessier-Côté
Eventhough I did not work work with him for long, Dan was always a great colleague who worked hard and went out of his way to help others. He was kind, funny and great at what he did. He always shared his experience with me and other young members in order to help us grow, to point us in the right direction, as a father would. His abscence will leave a hole but he will be remembered for the great man he was. I also wish to give my deepest condolences to the family and want them to know that his memory lives on in all of us.
Liz Fox
Dans consistent "good morning my dear" was always welcomed and I appreciated his words of wisdom. I'm grateful to have had a thoughtful conversation with him just prior to Christmas. Condolences to his beloved family of whom he spoke so fondly.
Marie-France, Jean-Yves et les enfants
Un GRAND Homme nous a quitté. Toujours heureux de nous accueillir à la maison. Un mari idéal pour ma tendre amie Annie, un père aimant et dévoué pour ses deux enfants. Nous vous accompagnons à distance dans ce difficile moment . Bon courage, nous vous aimons tous et partageons votre peine. xoxo
Sign digital guestbook