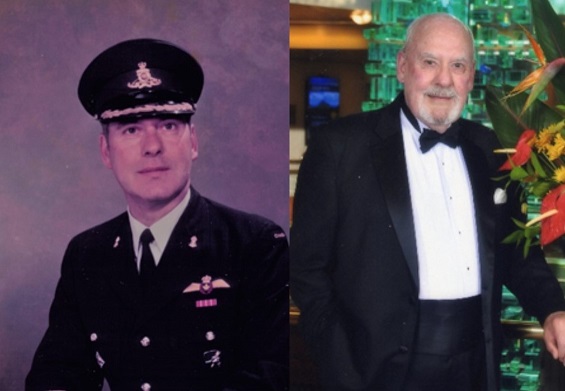 On Thursday, April 2, 2020, at the age of 82, Vic took his leave for blue skies and fair winds, a victim of Covid 19. He will be deeply missed by Patricia, his wife, best friend, travelmate and partner in so many things.  Life will never be the same without him. He will be lovingly remembered by his daughters Lee-Anne (Chuck) and Liese as well as his stepson Ian (Becca) and stepdaughter Krista (Jeff).  His grandsons Bob, Benjamin and Jacob will have fond memories of time spent with him. Predeceased by his brother Richard (Ingrid) he leaves behind his sister Jean (Jack), and brothers Reginald (Paulette), Frank (Simonne), Gary (Dona) and many nieces and nephews. 
Vic had a full, exciting and successful life, serving Canada for 39 years in the Royal Canadian Artillery.  Not only did his service take him right across Canada but he spent time in Germany, Italy, the UK, the USA, Norway, Belgium, Australia and New Zealand. He enjoyed all the postings, all the challenges that he faced but his favourite by far was his time as an Air Observation Post Pilot.   
Upon retiring Vic maintained his military affiliation, actively involved with the Conference of Defence Associations, the Canadian NATO Defence College Association, the North Atlantic Council, RUSI Vancouver, Air OP Pilots Association and the Ottawa Gunners. He made his mark in so many projects but one, most important to him was the Honour House in New  Westminster, BC.  His vision and drive provided the impetus to get it off the ground. More recently, his efforts and involvement in launching the Canadian Army Aviation website gave him much satisfaction.
On a personal level Vic was loved and admired by friends and family, old and new.  He enjoyed being out on the golf course, would never refuse a chance to go flying, was a somewhat unique bridge player,  loved a fine meal with his favourite folks, was an enthusiastic traveller and truly appreciated a single malt scotch. With that – raise a glass to Vic!
The family would like to thank the doctors and nurses in the ACE Unit of Queensway Carleton who treated him with such care and respect right up to the end.  It is hoped that a Celebration of Life can be held at a later date, arrangements to be made at Beechwood Cemetery.    
So come my friends be not afraid.
We are so lightly here.
It is in love we are made.
It is in love we disappear.
Digital Guestbook
Karen Colwell
Thinking of you with comfort, support and much love.
Kathleen Brushett-Snow
So sorry to hear this sad news.
Praying for your healing, comfort, strength and peace during this painful time.
I hope you feel the love that surrounds you, now and always.
With our deepest condolences,
Kathleen, Alan, Alyssa, Emily, and Ben Snow and Shirley Ann Wood.
Deb Ruddock
I am very sorry to hear of your loss, Pat and family. Thinking of you during this very difficult time.
Paula Ferreira
It was an honour to have known you- Rest In Peace- fly safe!
Liese Coroy
Life just won't be same without my Dad. I miss him already.
Anthony Rocha
Would loved to know this man. He was truly a hero.
Kay Dyer
Sending love and condolences to the family. We felt so honored by the chance to get to know Vic a bit when he last visited Victoria. He was and is a wonderful soul.
Sheila Early ( nee Diehl)
Condolences to all Vic's family at this sad time. Vic was one of my cousins and he was so kind to my parents as they aged in Saskatoon and later when my Mom came in Surrey BC to live with me.. We last had contact when I lost my husband Peter on Christmas Eve 2019. Our world has changed since Covid-19 and will never be the same. My family's thoughts and prayers are with you.
Gail and Dag Ellingsen
Our deepest condolences to Pat and all the family. He will be greatly missed. our thanks for a great friendship thru many years.
Sign digital guestbook